London, UK - 7 September 2018 - As Amazon hits a trillion dollar valuation, Hampleton Partners' latest M&A Market Reports on e-Commerce and Digital Marketing reveal that the number of deals in both sectors is rebounding after the slowdown which started in Q2 2017. Associated transaction values are rocketing to the near record-peaks achieved in Q4 2015.
This rebound is emblematic of established retailers and online players buying-out competitors or snapping-up individual online retail niches and e-Commerce capabilities. With competition intensifying, such strategic deals are enabling them to re-position in order to fend off Amazon's online dominance in the battle for consumer attention and spend.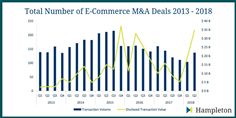 e-Commerce Transaction Volumes and Values 2013-2018
eCommerce M&A Market
2018 started off with an uptick in the total value of disclosed transactions, which increased 106% year-over-year to $53.59 billion during the first six months of 2018. With seven deals topping the $1.0 billion mark in 1H2018 compared to just four such deals in 1H2017.
Landmark deals included traditional retail businesses such as Walmart which paid $16 billion for a 77 percent stake in Flipkart, India's biggest online retailer. This transaction was the world's largest acquisition of an e-Commerce company on record and strengthened Walmart's ability to counter Amazon's growing dominance.
Private equity growth
Although strategic buyers made up 79 percent of all transactions during 1H2018, the share of private equity transactions has soared strongly since the end of 2017. Financial buyers are also paying increasingly more, including Silver Lake Partners' acquisition of Zoopla for $3.0 billion at 26.4x EBITDA.
Digital Marketing M&A Market
With 185 announced acquisitions in 1H 2018, deal volume was up 20.1% compared to the same period in 2017 and edged ever closer to its former peak in 2015.
Total disclosed transaction value was similarly robust, growing by 120% year-over-year to $5.36 billion. This was partly driven by growth in the number of deals larger than $200 million compared to the same period last year.
Consulting firms such as Accenture and IBM remained acquisitive in 1H 2018, announcing three acquisitions each in the digital marketing space, including HO Communication a Chinese digital marketing agency and Ebiquity plc an advertising intelligence firm.
The sector's largest deal by a long margin was Adobe's acquisition of e-Commerce firm, Magento, from the European private equity firm, Permira, for $1.68 billion at a revenue multiple of 11.2x.
Jonathan Simnett, director, Hampleton Partners, said: "The driver for aggressive tech M&A in digital marketing and e-Commerce can be summarised in one word - Amazon. Competition online for consumer attention and spend has further intensified in the face of the omnipresent trillion-dollar behemoth and its ever-growing global impact.
Competitors are having to use M&A to acquire the e-Commerce technologies that may level the playing field and invest to expand into online rapid growth areas such as China and India. Simultaneously, they are having to acquire to innovate in digital marketing, capturing consumers via techniques such as influencer marketing and native ads to offset the rise in ad blockers and the decline in traditional media consumption."
Download the full Hampleton Partners e-Commerce M&A Market Report for free: https://hampletonpartners.com/e-commerce-report-2018
Download the full Hampleton Partners Digital Marketing M&A Market Report for free: https://hampletonpartners.com/digital-marketing-report-2018
ENDS
Hampleton Partners Media Contact:
Jane Henry
jane@marylebonemarketing.com
+44 789 666 8155
Note to Editors:
Hampleton Partners' M&A Market Reports are compiled using data and information from the 451 Research database (www.451research.com).
About Hampleton Partners
Hampleton Partners is at the forefront of international mergers and acquisitions advisory for companies with technology at their core. Hampleton's experienced deal makers have built, bought and sold over 100 fast-growing tech businesses and provide hands-on expertise and unrivalled international advice to tech entrepreneurs and companies which are looking to accelerate growth and maximise value.
With offices in London, Frankfurt and San Francisco, Hampleton offers a global perspective with sector expertise in: Automotive Technology, IoT, AI, FinTech, Hi-Tech Industrials & Industry 4.0,
Cybersecurity, VR/AR, HealthTech, Digital Marketing, Enterprise Software, SaaS & Cloud, e-Commerce. Download sector reports here: https://hampletonpartners.com/research/.
Follow Hampleton on LinkedIn and Twitter
For more information visit http://www.hampletonpartners.com