V1 Championship launches a simulator to find the racing driver of tomorrow
7th December 2011 - Has the speed of the motorway never really been enough for you? Have you watched motor racing knowing that you could be just as good, or better, behind the wheel? The V1 Championship launches today and gives you the chance to finally get in the driving seat – and prove that you have what it takes to be a real racing star.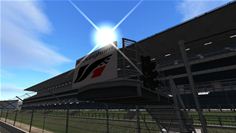 V1 Clio Cup racing simulator
V1 Championship has created a racing simulator like no other which will enable you to not only hone your skills on the track but also be in with the chance of winning a once-in-a-lifetime prize of a real-life season on the track.
If you have dreamed of racing, have the skill, but felt the opportunity has been out of reach because of the financial commitment, V1 Championship is your life-changing ticket to a career in racing. The best driver will win a fully funded development programme for a season in the 2012 UK Renault Clio Cup, worth £100,000.
V1 Championship has been developed by racing experts, Jay Marshall and Mark Coleman, over the past four years. Their combined heritage in racing and IT has led to the creation of a simulator that is as close to as real driving experience as you can possibly get. The simulator has already been used to identify future motor racing champions and uses a whole host of different measurements to assess driving ability, including not only time, but also physiological and psychometric tests to measure driver's styles and attitude.
V1 Championship is now making this amazing technology available to everyone. By visiting v1championship.com and buying a token to play the Renault Clio Cup simulator, you automatically gain entry into the competition. The 10 most talented drivers will gain entry to on-track qualifiers, which will assess the drivers' offline skills and the most talented participant will win a coveted place in a real-life racing season.
Jason Plato BTCC Champion said "This is truly an exciting and once-in-a-lifetime opportunity for someone to forego the usual climb into this level of motorsport and therefore makes it even more of a must-have for anyone with the skill to drive at this level. I love finding and nurturing new talent and am really excited about tutoring and mentoring the winning driver in the lead up to the 2012 season."
Jay Marshall, co-founder of V1 Championship said: "This is the perfect opportunity for anyone who thinks they have the makings of a racing driver. For years I have watched the gulf between the haves and the have-nots widen. Time and time again I have seen really talented drivers being passed over for those with the right connections or financial backing. I now look forward to developing and promoting genuine talent no matter what their social or financial back ground."
If you think you have what it takes head to www.v1championship.com to get driving.
About V1 Championship
V1 Championship Limited has been honing its assessment criteria since its launch in 2007 and has devised a series of virtual and real world tests designed to identify future motor racing champions. These have been thoroughly tested in real world racing environments and allow the company to accurately predict the abilities of drivers before they even step into a car.
This expertise is now being applied to find undiscovered talent. By correlating the users ergonomic output from the online simulation with the psychometric testing gives V1 a very accurate assessment of a driver's potential. Real world testing then allows V1 to make that final judgement.
The overriding motivation for V1 is to find genuine talent, wherever it may be, regardless of financial status or background. We believe that too many future motorsports competitors, with genuine talent, never realise their potential because of the absence of opportunities open to them. Our intention is to open the door and allow them to realise their dreams. By using the Internet and an online racing simulator, we are able to engage the next generation of talent and instantly level the playing field, giving every individual an equal opportunity to shine. This way, money counts for nothing while dedication, enthusiasm and raw talent count for everything.
About UK Renault Clio Cup
Renowned for its thrilling wheel-to-wheel racing, the ELF Renault Clio Cup with Michelin series is the UK's premier one-make saloon-car championship. Using cars based on the road-going Clio Renaultsport 200, the series is a prominent support race on the British Touring Car Championship benefitting from live comprehensive television coverage on the ITV Sport network. It remains the most direct link for aspiring Touring Car drivers with around one third of the BTCC grid comprising of former Clio Cup racers.
For more information please contact:
Nicola Gibb
07990514193
nicola@switchcoms.com