'Doing a Norman' is the smart new way to beat the soaring cost of energy prices in London.
Proud Hornsey homeowner Norman Beddington has used the latest green technology to save more than 60 per cent on his heating, lighting and water bills - http://bit.ly/1mcNV38 see Norman's smart home on Youtube.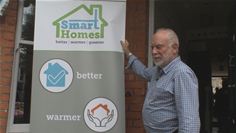 Norman
'I reckon I must have one of the smartest houses in London,' boasts the retired energy consultant.
Homeowners in six boroughs can follow in Norman's low-carbon footprint thanks to grants of up to £6,000 to make their homes energy smart.
Instagroup, one of the UK's top Green Deal providers, has teamed up with lead authority Haringey and five other councils (Camden, Enfield, Hackney, Islington and Waltham Forest) to implement the programme.
It's called the Smart Homes project, a £6.5m scheme aimed at making around 1600 London homes more energy efficient.
Norman's Edwardian semi has had new double-glazed windows, a new energy efficient boiler, new radiators, solar panels to provide electricity and solar thermals for hot water, as well as external insulation.
'Our major motivation was to reduce CO2 emissions to do our bit for the climate.
'We think our home is pretty smart and hope it inspires people to take up the Green Deal initiative on offer,' he says.
Norman reckons they've cut their bills from £3000 a year to £1,000. They also make money by feeding electricity back into the grid.
Instagroup's Green Deal Director Lucy Shadbolt says Norman has set the perfect example for many more householders to make their homes energy efficient.
The cost of the Instagroup Green Deal assessment has been cut from £100 to just £50 in Haringey scheme, thanks to an additional grant.
'This survey is tailored to the home and looks at everything rather than focusing on one solution,' says Lucy.
'Many homes in London have been built with solid walls particularly those built pre 1930. These walls lose a lot of energy.
'Instagroup is a one-stop shop for home energy efficiency installations.
'Just getting your walls insulated through InstaGroup using the Smart Home funding this could save householders *£270 per year.'
Norman's philosophy is, 'I would like to popularise social change and if that can be linked to cutting CO2 emissions and people's energy bills so much the better.'
Instagroup delivers high quality solutions through its national network of local installers, known as the Snug Network.
Lucy Shadbolt says, 'Instagroup is committed to improving the quality of people's homes. It's about cutting bills, making your home warmer in winter and cooler in summer.'
'Doing a Norman', says Lucy, 'can help your home become a better, more comfortable and more affordable place to live.'
The Smart Homes scheme is only available in the six north London boroughs and is available until March 2015.
To apply for the scheme and arrange an assessment contact the Smart Homes advice line on 020 7527 4736
People living outside north London can also apply for Green Deal finance to help improve their homes.
Go to the Instagroup website at
http://www.instagroup.co.uk/ or
http://www.snugnetwork.co.uk/
Find other useful videos from Instagroup TV http://bit.ly/1ot1b7U
Follow Instagroup on Twitter @WeAreInstaGroup
Visit their Facebook page http://on.fb.me/1mgE9Nr
Haringey Council http://bit.ly/1zOMYX7
Camden http://bit.ly/1APyZlf
Waltham Forest http://bit.ly/1tPqcxP
Hackney http://bit.ly/1so9K5K
Islington http://bit.ly/1ugrbo7
*Source - Energy Savings Trust website