LANDesk Service Desk as a Service 7.5 provides Domino with a flexible IT environment, greater return on investment and faster customer service
LONDON – 25 September, 2012 – LANDesk Software today announced that Domino Printing Sciences plc. is now using LANDesk Service Desk as a Service 7.5 to simplify and improve IT workflow processes. Domino, a leading designer, developer and manufacturer of printing technologies, will use LANDesk's cloud-based solution across its global service desk operations, which support 25 subsidiary offices and over 200 distributors in 120 countries.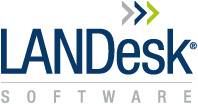 LANDesk logo
Since 2002, Domino's global IT and service desk operations team has been using LANDesk Service Desk to provide counsel to more than 4,000 customers and up to 1,000 calls per month. As Domino's business has grown around the world, the company's IT needs have grown, meaning the team is always looking for ways to improve functionality and customer experience.
"We were ready to switch to a cloud-based system that provided the same process-based service management solution we were used to, but with greater flexibility and mobility," said Julian Knight, technical support specialist at Domino. "Our goal was to have a product that would work across all devices, at any time, from anywhere."
Domino chose LANDesk Service Desk as a Service 7.5 for its easy-to-use, flexible approach that can be leveraged as a typical cloud-based solution, with all data and services accessible remotely over the internet, or with a hybrid approach where services, integration points and even data can be split between on-premise and cloud. The LANDesk solution provides increased efficiency for Domino's global service desk operations and promises to saves money as there are no infrastructure or software maintenance costs.
"LANDesk Service Desk as a Service 7.5 became an obvious choice when we looked into other solutions available – it's predictable, reliable and meets all of our business needs," said Knight. "I don't know any other system that works this seamlessly."
When Domino decided to switch from the traditional premise-based Service Desk to Service Desk as a Service 7.5, the team was able to make that transition whilst retaining all historical data, process, design and over 35,000 incidents. With the help of LANDesk's Cloud Care team, Domino's service desk staff easily replicated the on-premise solution, tested the off-premise solution and made final tweaks to the configuration within a week. The Domino's team is now able to access the database from anywhere in the world, seamlessly sync all systems and schedule updates, and provide better support to customers. The team is also able to generate a range of complex dashboards and reports to provide detailed support performance statistics which help improve customer service and efficiency.
"We've had an unparalleled level of support from the LANDesk team and we have complete confidence that they'll keep our systems running at all times," said Knight.
"We're excited to be partnering with Domino on this SaaS project which has already made its service desk operations more agile and efficient," said Ian Aitchison, ITSM product director at LANDesk. "The cloud is the future and we're proud to offer a solution that gives our customers a truly flexible and secure experience with all of the benefits of an on-premise model. We're confident that Domino will continue to see a significant return on investment with the SaaS solution."
###
About LANDesk Software
LANDesk Software is a leading provider of systems lifecycle management, endpoint security, and IT service management solutions for desktops, servers and mobile devices across the enterprise. LANDesk enables IT to deliver business value by gaining control of end-user computing with a single console, light infrastructure, and ITIL solutions that deliver significant ROI for thousands of customers worldwide. LANDesk is headquartered in Salt Lake City, Utah, with offices located in the Americas, Europe and Asia Pacific, and can be found at www.landesk.com.
Copyright © 2012, LANDesk Software, Inc. and its affiliates. All rights reserved. LANDesk and its logos are registered trademarks or trademarks of LANDesk Software, Inc. and its affiliates in the United States and/or other countries. Other brands and names may be claimed as the property of others.
About Domino
Founded in 1978, Domino has a global reputation for the development and manufacture of coding, marking and printing technologies that satisfy the compliance and productivity requirements of manufacturers. Domino's consistent year-on-year growth – both organic and through acquisition – is underpinned by an unrivalled commitment to product development, resulting in a portfolio that incorporates complete end to end coding solutions spanning primary, secondary and tertiary applications. Innovative ink jet, laser, print & apply and thermal transfer overprinting technologies are deployed for the application of variable data, bar codes and unique traceability codes onto product and packaging, across many industrial sectors, including food, beverage, pharmaceutical and industrial products.
In 2011 the Domino Group (Domino Printing Sciences plc) achieved a turnover of £314.1 million; it is listed in the FTSE 250 share index on the London Stock Exchange (share code DNO). Domino was awarded the Queen's Award for Continuous Achievement in International Trade in 2012 and was named Company of the Year in the 2010 UK PLC awards. The Group employs 2,200 people worldwide and sells to more than 120 countries through a global network of 25 subsidiary offices and more than 200 distributors. Domino's manufacturing facilities are situated in China, Germany, India, Sweden, UK and USA.
For further information on Domino, please visit www.domino-printing.com
Keira Anderson
Porter Novelli
Tel: 0207 853 2289
Email: keira.anderson@porternovelli.com
Sarah Lewis
LANDesk Software
Tel: 01483 744232
Email: sarah.lewis@landesk.com