Turin, ITALY: 21 December 2011: Skylogic, the broadband affiliate of Eutelsat Communications (Euronext Paris: ETL) today announced the appointment of Dr Achille De Tommaso as its new Chief Executive Officer. Current CEO, Arduino Patacchini, will become President of Skylogic.
Dr De Tommaso, who most recently served as senior advisor to Skylogic's CEO and General Director, has 40 years experience in telecommunications having built and led companies such as Eurotech, Televas, Nortel Italy, Cable & Wireless Europe, Infostrada and COLT Italy. Dr De Tommaso has also worked as a consultant for the European Union DG XIII for advanced telecommunications services. Currently also chairman of the Italian Research Center ANFoV, for the study of technologies, market and regulation of the telecommunications industry, Achille (known as Silvio) has a doctorate in Electronic Physics.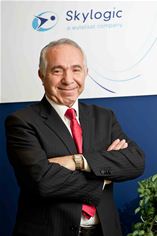 Dr Achille De Tommaso
Commenting on the appointment, Andrew Wallace, Eutelsat Chief Commercial Officer, said: "With his extensive experience of managing growth companies in the telecommunications industry, Dr De Tommaso is the perfect appointment to assist Skylogic in its next important phase of development. I would also like to thank Arduino for his remarkable efforts over the past 10 years. His intellect, passion, leadership and commitment have seen Skylogic emerge as one of the world's premier providers of satellite broadband communications services."
About Skylogic
Skylogic provides satellite broadband communications services for Internet access (via IP protocol) and for television transmissions to corporate enterprises and public bodies. The Turin-based company is a subsidiary of Eutelsat, Europe's leading satellite operator. SkyPark, Skylogic's teleport, houses one of the largest platforms in the world for two-way broadband IP transmissions. Skylogic's satellite networks are interconnected by optical fibre to the largest operators in the sector, guaranteeing connectivity in Europe, the Mediterranean Basin, the Middle East, North Africa and America.
For further information visit: www.skylogic.com and www.tooway.com