Leading WMS platform will support cost efficiencies and diversity as Drakes creates new grocery wholesale division to support growth
Camberley (UK): 27 March 2019 Drakes, Australia's largest independent grocery retailer is integrating WCS (Worldwide Chain Stores) CSnx, next generation warehouse and labour management system into its new grocery wholesale venture, Brave Logistics. As the company breaks away from traditional third party suppliers in its purchasing of groceries, its creation of Brave Logistics will provide its own grocery wholesale division that will serve its supermarkets across the country and allow it to manage costs effectively.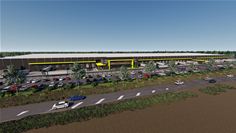 New DC
Drakes Supermarket Groups has grown substantially from a small supermarket employing four staff in 1974 to a business that now employs around 5,500 staff with more than 60 stores across the country including liquor and newsagencies; with a turnover in excess of $1 billion. The company will be launching Brave Logistics, an expansion into the wholesale of grocery items during this year in a bid to regain control of its supply chain, and manage costs to maintain competitiveness. The company's brand new distribution centre will have WCS' CSnx warehouse and labour management platform at its core.
Glenn Sutcliffe, Logistics Manager at Drakes Supermarkets, commented; "Brave Logistics is a crucial development for the future of our supply chain management and ultimately our growth. We needed a functionally rich, grocery wholesale WMS that would fit our needs today, but also more importantly, for tomorrow. CSnx delivers best of breed warehousing and labour management as well as excellent integration to automation – all elements that were a necessity for us. Importantly, we also needed a business that culturally was aligned with ours. With WCS we have exactly that."
Drakes will be implementing a sophisticated solution that will deliver a 'cost to serve', supplier booking, and Chain of Responsibility toolkit with CSnx that will allow it to have the ability to track costs categorised by activities rather than traditional costs related to how it serves its customers. This will give it the unique ability to identify non-value added activities it currently undertakes, and implement process improvement where necessary.
Joshila Makan, CEO of WCS commented, "We are excited about introducing CSnx to the Australian market – it's a great opportunity to work with a retailer that's going to flex full functionality of CSnx across all the key elements of the programme including booking and labour, plus cost to serve functionalities."
Drakes' business model is revolutionary for their market, as grocery retailers continue to work with smaller margins remaining competitive is becoming increasingly difficult. Managing costs associated with cost components across the Brave Logistics business which could include labour, materials and fixed costs - means identifying the true costs of things like slotting as opposed to cross docking, costs of over-ordering, and promotional activity. As grocery retailers face bigger demands on their business due to consumerisation, WCS continues to innovate and this solution for Drakes is where we as a business, can offer real value – adding efficiencies across the warehouse, which will deliver true ROI."
About CSnx
CSnx is a sophisticated, web-based, platform independent tool that helps businesses maximise their customer satisfaction and profit margins by enabling an optimised and highly efficient service through a number of capabilities including stockless operations, voice, sophisticated storage algorithms, perpetual inventory and cycle counting, labour management and asset tracking. The open architecture and strong integration capability of CSnx also means that the solution can support future trends.
Editors note: photography available on request.
About WCS
WCS is a dedicated provider of comprehensive supply chain execution technology, services and solutions – ranging from warehouse management, billing and procurement through to voice, labour management, POD, asset management and analytics. Engineered to be future-proof, the company's flagship product, CSnx, is a next generation technology platform offering organisations easy to use, flexible, scalable and relevant out-of-the-box capability to automate, diagnose and seamlessly manage today's complex omni-channel supply chain operations. visit: www.wwchainstores.com.
For other information, please contact:
Nicola Males
Vanilla PR
07976 652491
Nicola@vanillapr.co.uk