200 delegates from 33 countries worldwide attended Europe's largest Annual Spectrum Summit, hosted by LS telcom in Lichtenau / Baden
Spectrum Summit 2018 on 4th July 2018
Lichtenau/Baden, Germany – "Driving wireless innovation" was the theme of the 22nd Annual Spectrum Summit concluding yesterday at LS telcom's headquarters in Lichtenau/Baden Württemberg, Germany.
The conference featured presentations and panel discussions on spectrum policy, 5G, the Internet of Things (IoT), and Digital Terrestrial Television (DTT), and attracted representatives and thought leaders from regulatory authorities, mobile and broadcast operators, spectrum consultancies, research institutes, and industry associations.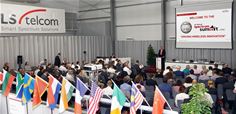 Spectrum Summit 2017
Rupert Pearce, Chairman of ESOA, the Association of satellite operators in Europe, the Middle East and Africa, and CEO of Inmarsat, opened the event with his keynote - a thoughtful consideration of the role of spectrum as infrastructure: "In the emerging global digital society, connectivity is a mission-critical enabler as important to the planet as clean water. Spectrum is infrastructure – not merely 'fuel' for broadcast and broadband networks, but instead the catalyst for pervasive, interoperable, heterogeneous, ultra-reliable next generation networks which will break down the digital divide and support a more productive, innovative, healthy, safe and fair world."
Representatives from industry, government and international regulatory bodies presented and discussed the challenges of network deployment and future spectrum access for 5G. "The challenge of 5G lies in ensuring that the right spectrum is available to operators and service providers who will make the most valuable and efficient use of it. A diverse mix of vendors, operators, verticals, regulators and infrastructure owners will need to work together to truly make the benefits of 5G a reality within the next five years," concluded Saul Friedner, Associate Director Spectrum Services, LS telcom.
The Internet of Things (IoT) took centre stage in the panel discussion moderated by Martin Sims, Managing Director, PolicyTracker (co-organizers of the event). Together, he and his panelists tried to tease out the likely development of IoT and examined whether the existing approach to spectrum, regulation and technology policy can ensure its future success.
The session "Digital Terrestrial Television of the future – more or less", moderated by Richard Womersley, Director of Spectrum Services at LS telcom, explored the continuing role of DTT as part of the changing television landscape and examined whether and how DTT will need to adapt to face the challenges of the future.
It became clear from the day's presentations and subsequent discussions that many challenges and difficult decisions are still to be made by operators and regulators and that certainty of the spectrum regulation is paramount to the future success of wireless industries, and to satisfy growing demand for widespread connectivity.
James Watson, Manager, Business Analysis, Business Intelligence and Transformation at Innovation, Science and Economic Development Canada (ISED), commented: "This was my sixth time attending the annual Spectrum Summit. Every year, very well informed speakers give excellent insights into the latest technological and policy developments from many perspectives. This really is a 'must attend' event, if you want to be ahead of trends in spectrum management and the wireless industry, and to network and share experiences with industry colleagues from around the world."
Roland Götz, COO and board member of LS telcom AG, said: "With a wide range of expert speakers presenting various aspects and different points of view on spectrum regulations and technological innovation, combined with profound discussions among international experts, the Spectrum Summit was once again a great opportunity to get first-hand information on the latest radio regulation and technology trends. Having completed 22 successful years and with an ever growing audience, the event is now a firm fixture on the industry's calendar."
The event is followed by several post-conference workshops on smart spectrum efficiency, spectrum-as-a-service, spectrum in the sky and big data. The Spectrum Summit and the post-summit workshops together with the two-day LS telcom USERgroup conference, a forum for LS telcom system and software users, make up a full week of events, which is organized by LS telcom. For the last two years, LS telcom has organized the Spectrum Summit Day together with PolicyTracker.
This year, LS telcom celebrates its 25th company anniversary. In 25 years, the company has developed from a two-man business into an international company employing over 250 highly motivated people.
Ends
For further information about the event: http://www.spectrum-summit.com/
Save the date – visit 23rd Spectrum Summit on 4th July 2018! Info at info@lstelcom.com
Annual Spectrum Summit
For over twenty years, LS telcom, the worldwide market leader in spectrum management and radio monitoring, organizes the Annual Spectrum Summit. The event unites a growing number of radio technology experts from the regulatory, industry and military sectors, as well as research institutes and industry associations, to present and debate hot topics in spectrum management and radio monitoring, broadcast, mobile, and critical communications.
The Spectrum Summit, the UserGroup - a forum for LS telcom system and software users – which precedes the Summit, and several post-conference workshops add up to a full week of events. For the last two years, LS telcom has organized the Spectrum Summit Day together with PolicyTracker.
About LS telcom
LS telcom is the global leader in spectrum efficiency. In an increasingly connected world, we assure that all spectrum users achieve their radio communication objectives in the most optimal and cost-efficient way. We deliver technologies and services to national and international regulatory bodies, to mobile and broadcast operators, to transport, critical infrastructure, defence, PPDR and vertical markets. We optimize spectrum management and spectrum use and enable new business models based on the internet of things (IoT). Spectrum users in all markets rely on our experts and software for the planning and design of optimized radio networks. We plan networks of all generations and technologies, including IoT.
On the regulatory side, we supply consulting and support services for spectrum policy development, pricing, auctions, trading, dynamic and licensed spectrum access considering technical, economic and social parameters.
Our highly modern SPECTRA Enterprise IT system provides regulators with fully automated workflow-based e-government capabilities in spectrum management. Combined with our flexible radio monitoring system, it is one of the most advanced systems for spectrum inventory and data mining, enabling highest spectrum efficiency.
Training on network technologies, standards, and regulations as well as radio monitoring system integration and optimization, transmitter installations and measurements complete our offer. Founded in 1992, LS telcom looks back on 25 years of experience in the radio communications market. Since then LS telcom, an ISO 9001:2015 certified company, has established memberships with many industry associations and organizations, and cooperates with leading technology universities. This is how we ensure to be up-to-date with technologies, standards and regulations.
LS telcom operates worldwide with subsidiaries and affiliates in Canada, China, France, South Africa, UAE, UK and USA as well as representations and support offices in Argentina, Hungary and Oman. With its headquarters in Lichtenau, Germany, LS telcom is listed on the German stock exchange under ISIN DE 0005754402 since 2001.
LS telcom
Christiane Labitzke
Marketing & Communications Manager
Email: clabitzke@lstelcom.com
Tel: +49 (0)7227 95 35 296 (Germany)
Tel: + 33 (0)1 39 26 85 85 (France)
www.LStelcom.com