Madrid, 20th October 2015 – People Who, www.peoplewho.co.uk, is a new online platform for anyone affected by an illness in the UK, whether they themselves have been diagnosed or they care for someone who lives with the illness. On the 20th October, World Statistics Day, they share the preliminary findings of their first European E-Patient Report 2015, providing insight into the behaviour, needs and profiles of patients of chronic illnesses on the internet.
E-health and e-patients: discovering the new world of online health
We all know that the internet is an invaluable source of information, communication and entertainment, and one which touches almost every element of our lives: from shopping to education to music, we now do more and more of our daily activity online. And health is no different: more than just searching for the cause of worrying symptoms in a search engine, increasing numbers of patients are using the internet to meet others like them, to find reliable information about their illness and to share their experiences with others. And their behaviour gives us a fascinating insight into what really interests patients in their day-to-day lives outside the consultation room.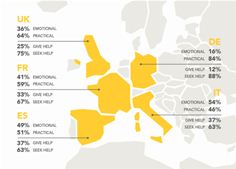 Emotional and Practical Comments in Europe
Today is World Statistics Day, a day to celebrate the importance of statistics in decision-making by governments, health systems and other organisations. To participate in this day, People Who Global are releasing some of their own statistics. People Who Global is an online health platform for people living with an illness, or caring for someone who does, with two principal aims: to bring together everything a patient needs to in a single place, and to generate new understanding from the patient's perspective through statistics and data which can ultimately help to improve their treatment and care. People Who Global now operates in five countries across Europe – the UK, France, Germany, Italy and Spain – giving a unique insight into the lives and attitudes of patients across the continent.
The UK and Europe: e-health in figures
While we still often associate online activity with the youngest generations, e-health platforms attract users of all ages, with the average age of People Who users across Europe standing at 45. Women are more engaged in e-health than men, representing 70% of all users. And it's not just people who have been diagnosed with .an illness who are engaged in the world of e-health: only 51% of users have an illness themselves, with 28% caring for someone else with an illness.
The data from the site's first year online confirm some old stereotypes and challenge others. 64% of comments made by users in the UK were focussed on practical questions rather than emotional ones, part of a general trend which split Southern and Northern Europe: just 16% of comments in Germany were related to emotional aspects of living with an illness, compared to 49% in Spain and 54% in Italy. Similarly, the myth of Southern Europeans being more talkative compared to their Northern counterparts appears to have some basis in fact, with online conversations twice as long on average in Spain and Italy than in the UK and Germany (with an average of four comments per thread compared to two in Northern Europe).
Different interests, different concerns
Meanwhile, different interests can also be seen in the number of visits received to articles in the platform's Magazine. British users were by far the most interested in content related to wellbeing, nutrition and exercise, followed by articles about treatment and medication options. Meanwhile, the French were more interested in the opinions of experts and the Italians in articles which talked about treatment and medication. "In both the community and the Magazine," says Tomas Garcia, CEO of People Who Global. "British users are well-informed about the basics of their illness, and are frequently looking for practical advice on how to improve their quality of life, from new or alternative treatments to diet and exercise."
Press contact. People Who:
Ewan Bleiman | Social and Content Manager, UK
Tel: 0207 193 7986
E-mail: press@peoplewho.co.uk
About People Who:
We are an online health platform focused on the everyday lives of people living with an illness, outside of their medical appointments. We are the leading digital platform for e-patients in Europe, bringing together patients, patients' associations and medical and nursing organisations. A platform based around the patient which aims to build a society that handles illness better.
People Who Global consists of five platforms: Les Gens Qui in France, www.lesgensqui.fr; Menschen Die in Germany, www.menschendie.de; People Who in the UK, www.peoplewho.co.uk; Personas Que in Spain, www.personasque.es and Persone Che in Italy, www.personeche.it.