Global tech leaders use platform to reveal exclusive insight into trends and predictions
Rome, Italy, October 1, 2018: The European Conference on Optical Communications (ECOC) Exhibition, has cemented its position as the leading event for the fibre optic industry, with more than 6,500 visitors passing through its doors this year.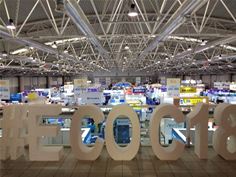 The 2018 ECOC Exhibition at the Fiera Roma, Rome, Italy
Taking place in Rome, Italy, the 23rd annual ECOC Exhibition – organised by Nexus Media Events Ltd – saw 329 exhibitors and 30 Market Focus presenters gather to deliver an action-packed show over three days. Some of the biggest names in telecoms were among the line-up, including Huawei, Anritsu, Fujikura Europe Ltd and Senko, as well as sponsors Axetris, Ciena, Coherent Solutions, Effect Photonics, Inphi, Intel, Molex and Tektronix.
As usual, a host of exclusive demonstrations and major product announcements took place, with Fibernet, a regular Rome-based exhibitor, among companies launching a new solution at the show. Fibernet showcased its brand-new product, In1co, an all-in-one transport system and mobile workstation which is designed to ease fibre optic management for engineers.
"We've found ECOC this year in Rome to be the perfect place to launch our new In1co all-in-one system and visitors to our booth have been hugely receptive to the innovative offering which will soon be available worldwide," said Matteo Trinei, Executive Manager at Fibernet. "ECOC 2018 has provided us, as ever, with a unique window into the whole of our industry, allowing us to be close to our partners and customers, not just from Italy but from around the world."
Meanwhile, at the Market Focus, a comprehensive array of cutting-edge topics was on the agenda, from fibre access and the FTTX network evolution enabling 5G to photonics integration and digital silicon photonics.
"As fibre becomes increasingly important to deliver next-generation applications and services, the ECOC Exhibition provides a world stage to discuss the latest innovations and developments," said Beverley Lucas, Event Director at Nexus Media Events Ltd. "With so much change happening right now across the industry, we have really noticed a sense of anticipation for what's to come and we're delighted to see the amount of support we've had for this year's event, enhancing ECOC's reputation as one of the world's leading optical communications gatherings."
ECOC 2019 will be held in Dublin, Ireland, between Monday, September 23 to Wednesday, September 25. Please visit www.ecocexhibition.com for further details.
[ENDS]
About ECOC Exhibition
The ECOC Exhibition is the largest optical communications exhibition in Europe, held each September in a different European city, the event is the key meeting place for decision makers from across the fibre optic communications technology industry. Now in its 23rd year, the exhibition now attracts over 5,000 decision makers from all around the world - bringing together manufacturers, suppliers and service providers to networking, gain insights on the latest developments, new products and trends in the industry.
Twitter: @ECOC_Exhibition
Instagram: @ECOC_Exhibition
LinkedIn: ECOC Exhibition