LONDON — December 2015. A survey commissioned by Hitachi Solutions Europe has recently revealed that 31 percent of organisations have moved all or part of their Enterprise Resource Planning (ERP) systems to the Cloud, or are in the process of doing so. The survey questioned 315 senior finance professionals with the aim of understanding their position and perceptions around ERP in the Cloud.
At this time 69 percent of respondents have not moved their ERP systems to the Cloud, but 44 percent said they would consider moving to the Cloud in the future. Of that 44 percent, two thirds (67 percent) said they would contemplate moving in the next two years.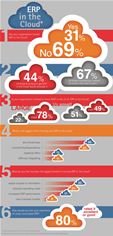 Cloud ERP Infographic
Looking at the responses from larger organisations (those with over 500 employees) suggests that it is no longer just smaller organisations taking a Cloud-based approach to ERP. In fact, 27 percent of larger organisations surveyed said they have moved all or part of their ERP to the Cloud, or are in the process.
Tim Rowe, Director, Hitachi Solutions Europe said, "While in some areas movement to the Cloud has been quite rapid, because ERP is seen as business critical and inherently complex, it has been slower to move to Cloud. Now, however, we are starting to see a shift as the benefits start to outweigh the perceived risks."
Of the 22 percent of respondents who have already moved all or part of their ERP to the Cloud, the main benefits they have experienced include easier access to information, with 30 percent ranking this as the number one benefit, followed by reduced operating costs and ERP performance. In addition, 80 percent of this group rated their experience of using cloud-based ERP as excellent or good.
All respondents were asked to rank what they perceived to be the main risks associated with moving ERP to the Cloud; 38 percent ranked data security and privacy risk as either their first or second greatest risk. This was followed by connectivity and dependency on a third party provider, which was ranked by 35 percent of respondents as the first or second greatest risk.
Respondents were asked what they would do differently if they were migrating their ERP to the Cloud again. Recommendations from survey respondents included making "a more informed choice on the actual providers" and "look[ing] more seriously at third party provision".
Steve French, Executive Vice President, Hitachi Solutions Europe said, "Working with a trusted implementation partner on a project of this magnitude is vital. Partners should be able to work with you to test if ERP in the Cloud can help meet your business objectives and support you on your Cloud journey."
###
About Hitachi Solutions Europe Ltd.
Hitachi Solutions Europe is a recognised leader in providing Microsoft Dynamics AX and Microsoft Dynamics CRM based global industry solutions that improve business practices and provide measurable business results. Additionally, Hitachi Solutions delivers innovative solutions around Business Analytics and Portals and Collaboration. Recognised as the Microsoft 2014 CRM Global Partner of the Year and the 2014 Dynamics Global Outstanding Reseller of the Year, our proven track record includes thousands of solutions that are standalone or integrated into highly complex enterprise environments that require deep integration with SAP and Oracle. For more information, call 0844 693 1538 or visit http://uk.dynamics.hitachi-solutions.com.
About Hitachi Solutions, Ltd.
Hitachi Solutions, Ltd., headquartered in Tokyo, Japan, is a core member of Information & Telecommunication Systems Company of Hitachi Group and a recognized leader in delivering proven business and IT strategies and solutions to companies across many industries. The company provides value-driven services throughout the IT life cycle from systems planning to systems integration, operation and maintenance. Hitachi Solutions delivers products and services of superior value to customers worldwide through key subsidiaries in the United States, Europe, China and India. The flagship company in the Hitachi Group's information and communication system solutions business, Hitachi Solutions also offers solutions for social innovation such as smart cities. For more information on Hitachi Solutions, please visit: http://www.hitachi-solutions.com.
About Hitachi, Ltd.
Hitachi, Ltd. (TSE: 6501), headquartered in Tokyo, Japan, is a leading global electronics company with approximately 326,000 employees worldwide. The company's consolidated revenues for fiscal 2014 (ended March 31, 2015) totaled 9,761 billion yen ($81.3 billion). Hitachi is focusing more than ever on the Social Innovation Business, which includes infrastructure systems, information & telecommunication systems, power systems, construction machinery, high functional material & components, automotive systems and others. For more information on Hitachi, please visit the company's website at http://www.hitachi.com.
Contact:
Simon Drake
Senior Vice President Sales and Marketing
Hitachi Solutions Europe, Ltd.
07500 835376
sdrake@hitachi-solutions.com