Tequila Games introduces a revolutionary Card Crafting system along with vast tactical possibilities in a radically new way of playing digital card games
Wroclaw, Poland - 21 May 2015 - Independent mobile games developer Tequila Games released today its free digital card battler Earthcore: Shattered Elements on the App Store for iPad and iPhone. Earthcore's mechanics allow players to minimize the randomness typical of card games by employing their intellect and tactical thinking, creating powerful skill combos to surprise and eventually to topple their opponents.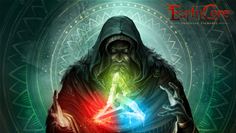 Earthcore - Sage
To create "the game they always wanted to play", developers tore up the genre rule book. Earthcore offers an unprecedented array of strategic gameplay possibilities, including elemental powers, skills, and chants, granting players with abilities such as damage amplification, power mimicking, card swapping and turning enemies cards into dust.
Earthcore: Shattered Elements' key features include:
Highly tactical gameplay that allows players to take control of any battle
An innovative Risk mechanic in which players gamble their health points while playing stronger cards
Card Crafting, generating hundreds of thousands of possible skill combinations on cards
A compelling single-player campaign featuring a rich fantasy storyline full of intrigue, suspense and treachery
Three different multiplayer modes, including casual matches, friends challenges and online epic PvP ranked leagues and tournaments
Hundreds of finely illustrated cards for players' decks, outstanding visual effects and an original orchestral music
The production of Earthcore lasted over 18 months, allowing the development team to tune the gameplay based on extensive player feedback. Cooperation with Michal Oracz, top board game designer behind the success of Neuroshima Hex! and artists who illustrated games like Magic: The Gathering and A Game of Thrones, was pivotal to the game's development. Gaming press has already welcomed Earthcore as "one to watch", a "welcome change from most digital CCGs" and a potential "new CCG obsession".
A launch trailer is available on YouTube: youtu.be/78tG-UmxuMI
Earthcore: Shattered Elements is available as a free universal app for iPhone and iPad on the App Store: itunes.apple.com/app/earthcore-ccg/id912349391
------- END -------
Notes to the editor
Download Earthcore for free: https://itunes.apple.com/app/earthcore-ccg/id912349391
Launch Trailer: http://youtu.be/78tG-UmxuMI
Launch trailer download: http://bit.ly/1Hu7dAk
Media Kit: http://bit.ly/1Hqo5aY
Website: http://www.earthcoregame.com/
Facebook: www.facebook.com/earthcoregame
Twitter: https://twitter.com/earthcoregame
YouTube channel: http://bit.ly/EarthcoreYT
About Tequila Games
Tequila Games' mission is to entertain people with high quality free-to-play titles such as critically-acclaimed BattleFriends at Sea. In the growing crowd of mobile developers, the studio thrives on its out-of-the-box solutions and creative approaches to gaming. With over 100 million downloads to date, the company continues to grow while developing its biggest project so far, a revolutionary digital card game called Earthcore: Shattered Elements.
Media contacts
- Marcin Traczyk, PR Specialist, Tequila Games: marcin.traczyk@tequilagames.com
- Valentina Ciolino, Account Manager, dimoso: valentina@dimoso.com, 0044 (0)207 033 2660