Toronto launch extends the company's ability to provide 24/7 support to global customers
Birmingham, UK – 10 October, 2019 – Leading UK SAP consultancy, Edenhouse Solutions, has opened an office in Toronto as part of its international expansion plans. In addition to supporting existing customers in the region, the company will invest in building local teams that will deliver a full SAP support service to organisations across Canada and the US.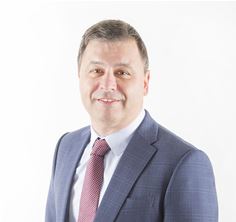 Paul Solomon
The move is part of the company's strategy to develop a strong presence across geographies and time zones that will enable it to provide both local and timely support to customers across the globe. From launch, Edenhouse Canada will work with multi-national law firm, Dentons, on a global SAP roll-out.
Edenhouse, which currently employs 200 people in the UK, predominantly in its offices in Birmingham and Manchester, plans to grow its headcount in Toronto significantly over the next six to nine months.
"Expansion into North America is the logical next step for Edenhouse, as it is for any ambitious tech company", says Paul Solomon, CEO of Edenhouse Solutions. "We have built a fantastic business in the UK and now have a huge opportunity to bring our world-class SAP skill set and unique subscription support model to the North American market. We're also thrilled to be part of such a vibrant tech scene in Toronto. It's something we've derived huge benefit from within the business communities of London, Birmingham and Manchester."
"We look forward to working closely with the Edenhouse team in Canada. Having on the ground support for such a large scale and complex roll-out is essential for us", added Carl Jewitt, Global Programme Director, Dentons.
"After working successfully with Edenhouse for a number of years, in both the UK and France, we're delighted that they are now able to offer us local expertise to deliver our North American project", said Colin Butler, Senior Director, Teledyne
The new office is located in downtown Toronto in the exclusive Richmond-Adelaide Centre.
– ENDS –
About Edenhouse Solutions
Edenhouse Solutions help forward-thinking businesses reimagine their business processes, by harnessing the power of SAP innovation to drive transformation and change management success. A leading strategic partner to small, medium and large businesses across multiple industries, Edenhouse inspire business leaders to create a growth mindset to leverage their SAP investment, and Cloud strategies to achieve competitive edge. Headquartered in Birmingham UK, with offices in Farnborough and Manchester, the company employs highly talented SAP consultants and solution architects who are passionate about driving our Customer for Life ethos and helping create an Intelligent Enterprise to drive success.
For more information please contact:
Laura Thomas or Danny Ward
Fourth Day PR
020 7403 4411
Laura.thomas@fourthday.co.uk / danny.ward@fourthday.co.uk