Data security provider is recognised as one of Britain's fastest growing tech firms
LONDON, 10th September 2018 – Data privacy and risk management company Egress Software Technologies today announced that it ranked 77th in the 18th Annual Sunday Times Hiscox Tech Track 100 league table. The Tech Track comprises the top 100 private technology, media and telecoms (TMT) companies in Britain with the fastest growing sales over the last three years.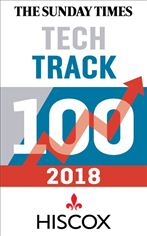 Tech Track logo
In 11 years, the company has rapidly matured from start up, to scale up, to hyper-growth, and experienced over 500% increase in revenue in the last four years alone. This trend has continued in H1 2018, with a significant number of new customers resulting in a 64% rise in new subscriptions.
These achievements have also been recognised in other prestigious industry programmes. In March, the company was selected for Tech City's Future Fifty Programme, which has previously supported some of the UK's most successful late-stage digital businesses. At the same time, Egress also joined the latest cohort of the Microsoft ScaleUp Programme, forming a partnership aimed at helping organisations migrate to cloud systems without risk.
Egress' CEO, Tony Pepper, is immensely proud to see the company included again in this prestigious league table, which recognises Britain's fastest growing private technology companies.
Tony comments: "This is the second consecutive year that we have been included in the Tech Track 100 and I am delighted we've received this recognition again. Our continued success demonstrates the value of our focus and strategy, and the hard work and commitment of the entire team."
"This has been a busy year so far at Egress, and we've expanded our offices and team to further our ambitious goals. All of our efforts are directed towards creating the best solutions for our customers, to help them secure the valuable data that plays such a critical role in their businesses."
Certified by UK Government, Egress helps enterprises protect unstructured data to meet compliance requirements and drive business productivity. The company's AI-based platform empowers users to control and secure the data they share.
Steven Langan, CEO of Hiscox Insurance Company, said: "Congratulations to all of the companies on the Sunday Times Tech Track 100. Their courage is laudable; rapid growth and continual innovation takes grit. We are extremely proud to be associated with such an impressive list."
ENDS
About Egress Software Technologies
Egress is the leading provider of privacy and risk management services designed to manage and protect unstructured data.
Offering customers a portfolio of complementary services, the Egress platform leverages machine learning, encryption and discovery to enable end-users to share and collaborate securely, while reducing the risk of loss and maintaining compliance. These award-winning integrated services include email and document classification, accidental send prevention, secure email and file transfer, secure online collaboration and audit and compliance reporting.
Certified by Government, Egress offers a seamless user experience, powerful real-time auditing and patented information rights management, all accessible using a single global identity.
For any press enquiries please contact:
Michael Bartley
C8 Consulting
michael@8consulting.co.uk
01189 497750
07920 709749