Judges commend Eirteic's Initiative to Simplify Network Management
Cork, Ireland, 7 December 2015: Cork company Eirteic, the service assurance company, has won the Best Network Operation Initiative at the World Communications Awards.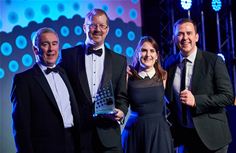 Eirteic WCA Award Win
The winning project was for Eirteic's implementation of a next generation service management platform for eir, the first phase of which went live earlier this year. Eirteic is the first Irish company to win an award at the prestigious annual event, which was held in Wembley earlier this week.
Eirteic had prestigious competition for the award with the shortlist consisting of AT&T, Vodafone, Epsilon and NetCracker.
The WCA's judging panel commended Eirteic's well thought-out entry, which won full marks in the network management category. "The judges don't often proclaim love for an entry, but one did here for the way it simplified network management," said Tony Lavender, partner and CEO of Plum Consulting, who led the judging panel and presented the award at the ceremony.
Eirteic proposed and delivered a solution based on the AssureNow platform from Monolith Software, the leading provider of technology management software for network operations centres. The project involved eir consolidating more than 70 diverse service management software tools across its fixed-line, mobile and IT network businesses into a single, unified platform on one site in Citywest, Dublin. Eirteic worked with eir to oversee the phasing out of the older technology which included products such as IBM Netcool, EMC Smarts, InfoVista, SolarWinds and BMC Patrol. Eirteic also deployed Galileo Vision, a customer experience visualization platform, as part of the solution.
The single-service view delivered by Eirteic and Monolith has enabled eir to:
proactively manage and monitor the availability of key services, such as next-generation access, 4G upload/download and 120+ channel IPTV
minimise fault levels and improve several incident management processes, ensuring faster service recovery in the event of an incident
enhance issue detection capabilities, allowing it to provide customers with more detailed levels of service information
roll out live 4G maps, providing real-time status information for its mobile networks.
Even before the award was announced, the project was praised by the outsourcing company Tech Mahindra. Delivery Director Deepak Maheshwari called eir's new service management centre "one of the most integrated SMCs we have seen with our telco customers in all our international operations".
In addition, eir surpassed OpEx cost savings targets that had been identified in the original project plan.
ENDS
Contact:
For eir: Chris Kelly, Communications Manager, eir: chris.kelly@eir.ie / 0851715454
For Eirteic: Eoin Geary, Account Director, Eirteic: egeary@eirteic.com / 0862780929
About Eirteic
Founded in 2000, Eirteic specialises in providing Service Assurance solutions. The company is headquartered in Ireland and has a global presence and experience working with clients in more than 30 countries. Eirteic provides next-generation Service Assurance solutions that enable its customers to monitor the quality of critical services across their entire infrastructure. Eirteic also enables clients to significantly reduce operational costs through lower total cost of ownership solutions. Eirteic's clients include eir, Tele2, Vodafone, MBNL, Three, Digicel and Equinix.
About eir
eir is the principal provider of fixed-line and mobile telecommunications services in Ireland with approximately 2 million customers. The company has the most extensive network in Ireland and provides a comprehensive range of advanced voice, data, broadband and ICT services to the residential, small business, enterprise and public sector markets.
The Group is currently constructing Ireland's largest fibre broadband network that will reach 1.9 million homes and businesses in the next five years. Launched in May 2013, the network now reaches 1.2 million homes and businesses and is the cornerstone of eir's €2.5 billion strategic investment programme.
About World Communications Awards
Launched in 1999, the World Communication Awards (WCA) have shown themselves to be the undisputed blue chip mark of success in the global telecom industry. Recognised as the most prestigious awards ceremony in the industry, the WCA are synonymous with innovation, merit and outstanding performance in the telecoms field.