Smart micro duct fault detector will revolutionise the telco market, saving operators time and money
Hawick, Scotland, January 29, 2018 – The European distribution rights of FiSpy – an innovative new product which uses smart technology to detect micro duct faults – have been awarded to Emtelle, a leading provider of blown fibre and ducted network solutions for the telecoms industry.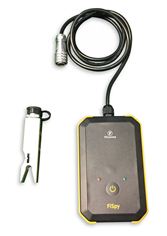 The innovative new FiSpy, the latest solution Emtelle has added to its offering
FiSpy, developed by New Zealand-based FiComms, uses a patented process to identify a micro duct or micro ducts within a multi duct environment. This removes the risk of incorrect identification and cutting of ducts, reducing the time and cost currently spent on fault finding.
"Maintaining a reliable fibre network is essential and detecting network problems quickly and efficiently is crucial when it comes to minimising downtime, and reducing installation time," said Scott Modha, International Business Development Manager at Emtelle. "Previously, this might have involved a large workforce manually looking for the fault but FiSpy takes the guesswork out of fault finding and lessens the labour involved, generating immediate cost savings for our customers and reducing the likelihood of expensive reworks in the future."
Other benefits of the FiSpy include low cost of ownership and maintenance, high user-friendliness and easy transportation, with the product featuring a compact design, interchangeable head sizes (5mm, 7mm and 8mm), an IP67 ruggedised case, simple LED indication and one-button operation.
These capabilities will be showcased for the first time at FTTH Conference 2018, where Emtelle will put FiSpy to the test in a blown fibre race at its stand G01. The winner of the race will be presented with a FiSpy on the final day of the event.
"Our blown fibre competition at FTTH Conference will put the FiSpy up against existing products on the market, providing the perfect opportunity to see just how innovative FiSpy is," added Scott Modha. "We are delighted to be able to offer this product across the European market and look forward to revealing its full prowess at FTTH Conference 2018."
Sean Rainthorpe, CEO of FiComms, which developed FiSpy, will attend the FTTH Conference in Valencia and be available to discuss the product in more detail.
"FiComms values Emtelle's support during the development of FiSpy and we look forward to working together on this exciting opportunity," added Sean.
The FiSpy will join Emtelle's full portfolio of products on display at FTTH Conference, including the popular retractable fibre cable RTRYVA, and the pre-connectorised fibre-in-tube solution QWKconnect – both simplifying the ease of installation, and reducing installation and maintenance costs.
Emtelle's International Business Development Manager, Scott Modha will also discuss how to improve the speed and efficiency of MDU installations for FTTH, even where fibre resources are limited, in the FTTH Conference Workshops on Tuesday, February 13 from 2pm to 5pm. FTTH Conference takes place at the Feria Valencia, in Valencia, Spain, from Tuesday, February 13 to Thursday, February 15.
- ENDS -
About Emtelle
Emtelle, with its Headquarters in Hawick, Scotland, is a global leader in the manufacturing of blown fibre and ducted solutions since its inception in 1980. Over the 35 years it has been operating, Emtelle has assisted all the key players with FTTH roll-outs worldwide. Its emphasis is on listening to customer requirements, and designing innovative and unique products to meet the needs of customer projects. At the same time, it focuses on creating best value, reducing total project costs and minimizing installation time and disruption. Emtelle's recent investment of more than €30 million in its European factory plants underpins this commitment.
Emtelle's global market coverage, including operations in the UK, Scandinavia and now Germany as well as sales offices in The Netherlands, Eastern Europe, Australia and Malaysia, allows it to serve more than 50 markets worldwide. Emtelle also has dedicated staff across the globe to provide field support to any customers regardless of location.
Emtelle's sales and technical teams work together globally to provide the highest standard of excellence throughout all its activities, including in customer service, and to maintain industry leadership in fibre and ducted networks by using the company's production capacity to develop and perfect the best possible solutions.
For more information about Emtelle, please go to http://www.emtelle.com/.
About FiComms
New Zealand based FiComms Limited is a company dedicated to assisting with the successful global roll-out of Fibreoptic Communications. FiComms provide state of the art tools and equipment designed to facilitate this process in the most effective way. The company origins are in the FTTX industry giving FiComms insight into what works and doesn't work when building and operating a network. FiComms vision and business are based on innovation, quality and efficiency and the company believe this is the best way to deliver the maximum benefits to their customers.
Media Contact
Jayne Brooks
jayne.brooks@proactive-pr.com
+44 (0) 1636 704 888