Aruba Networks is today launching a prize draw to give IT professionals the recognition they deserve. Through its 'Mobile Heroes' prize draw, it is searching for professionals across Europe who are driving the new generation of workforce – named #GenMobile by Aruba.
With random prize draws, taking place bi-weekly from February 21st, Mobile Heroes will reward IT professionals who have taken steps to bring mobility into the workplace by:
Building a flexible, wireless work environment;

Implementing a strategy for BYOD;

Or, embracing mobile applications to improve business processes.
The winners will receive €2,000 worth of prizes, plus a chance to win a VIP trip to Aruba's Mobility conference, Atmosphere, in Lake Maggiore, Italy.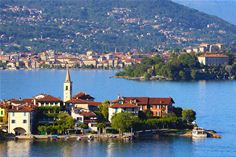 Lake Maggiore
The prize package includes a Pebble watch, a Windows Surface Pro and Google Play / iTunes vouchers.
To enter the competition, IT professionals should visit: Genmobile.eu
The Mobile Heroes will be announced via Twitter. Follow @ArubaNetEurope to get the latest updates.
The competition closes at 6:00pm on March 21st 2014.
For more information, contact mobileheroes@waggeneredstrom.com