Gamers get ready for the Knight of their lives with this innovative physics-based platform puzzler
London, UK – 28th August 2014 - Independent Game Developer 232 Studios (http://232studios.com) today launched Epic Eric (http://epicericgame.com), its highly anticipated new platform puzzler exclusively on iPad, iPhone and iPod touch. Designed and developed solely by Neil Glenister, the game features the noble knight Epic Eric as he tries to rescue his one true love Princess Erica from her lonely prison tower. And for players less inclined to adhere to fairy tale norms, Epic Eric also lets gamers play as Princess Erica, with the roles of rescuer and rescuee reversed.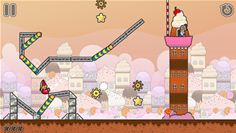 Epic Eric Screenshot 1
The game couples innovative physics-based gameplay with highly accessible one-touch controls, and was named by mobile game review site Pocket Gamer as one of its 'Top 50 most anticipated games of 2014'.
Playing as either Eric or Erica, gamers must swing their way across a series of increasingly difficult challenges to collect all the stars on each level and free their one true love. Each level has multiple solutions as players swing, flip, bounce and slide their way to victory. Epic Eric features 45 levels set across three different gameplay environments, and also boasts a variety of hidden features, easter eggs and unlockables. As well as successfully completing each level, players can complete 21 quirky challenges including the 'Top Gun Maverick' award for flying over the princess tower whilst upside-down, and the 'Chuck Norris' award for surviving a fall.
Please Note: No Knights were harmed in the making of this game
Features
Be the brave Knight OR the beautiful princess in this modern fairy tale twist
Super-simple addictive one-touch gameplay
Clever physics-based gameplay tests players precision and timing
Packed with challenges over 45 levels and 3 different themes (Rookies Rook, Cup Cake Castle, Icengard)
Discover hidden Easter Eggs (hint: try playing the game at night!)
Unlock achievements such as the Chuck Norris Achievement by surviving a fall, or the 'I was inverted' Top Gun achievement by flying over the princess tower upside down.
Even more FREE levels coming soon!
Epic Eric is available as a premium app for $0.99/ £0.69/ €0.89 from the App Store on iPhone, iPad or iPod touch or at https://itunes.apple.com/app/id662886078
Watch the gameplay video online: https://www.youtube.com/watch?v=fiW4Mdj4Jn4
Visit: www.epicericgame.com
***ENDS***
Note to editors:
Media assets including screenshots are available from: https://drive.google.com/folderview?id=0B9Xckyy814KWSHlrS1BfcVEzYUk&usp=sharing
The game trailer can be downloaded separately from: https://drive.google.com/file/d/0B9Xckyy814KWY20yUlV1Vl9IV0k/edit?usp=sharing
About 232 Studios Ltd
232 Studios has had a successful history with client work, but Epic Eric is their first foray into self-publishing and developing their own IP. Neil Glenister (@232studios), MD of 232 Studios, has been the sole designer and developer behind Epic Eric, a project that has been two years in the making and self funded through work for hire.
Media Contact
For promo codes and more information please contact:
James Kaye, Big Ideas Machine
james@bigideasmachine.com
+44 (0) 7884 085 429