Multichannel customer experience company opens new headquarters and US office
Paris, Reading, Boston, Singapore, 12 April 2016 – As it celebrates its 15th anniversary global multichannel customer interaction software company Eptica today launched its new strategy, positioning and branding. Building on its heritage, this coincides with major expansion at the company, including the opening of its new, larger Paris headquarters and its new US office in Boston, Mass..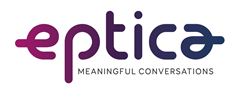 Eptica logo
"At Eptica we are extremely proud of the achievements of the last 15 years, building a global reputation for the strength of our multichannel technology which helps brands to respond more effectively to their customers," said Olivier Njamfa, CEO and Co-founder of Eptica. "As we move into the future, the market is changing, and individuals are increasingly demanding greater engagement with organizations, meaning that companies that satisfy customers benefit from a competitive edge over their rivals. Our colorful and engaging new brand reflects how Eptica helps businesses meet this new customer experience challenge. We recognize the ability of our software to help millions of individuals worldwide to have meaningful conversations with businesses, which have a positive impact on their daily lives. As a company, Eptica has ambitious plans to grow over the next five years, and our new positioning will provide us with a map for the future journey."
Eptica has the ability to handle enormous volumes of customer interactions whether on the web, via email, social media or telephone channels and to use the power of linguistics to help ensure conversations deliver results for individuals. Eptica's clients are winning and retaining customers by offering a flexible, scalable, superior experience that draws on the skills and knowledge of the whole company. They include AirAsia, which is answering 1 million web-based enquiries every month, Opodo/eDreams, which is responding to over 2 million emails a month, and Crédit Agricole, where 30,000 members of staff use Eptica to interact with individual customers.
"The customer experience we receive touches us all – one poor conversation with a company can ruin our day, and cause major harm to any relationship with a brand," continued Njamfa. "It doesn't have to be like this – at Eptica we have a dream of a future where every individual will only have positive interactions with businesses, boosting happiness through relevant, meaningful and high quality conversations."
Eptica moved into its expanded new headquarters, situated in Boulogne-Billancourt, Paris, in April 2016. As a profitable company, Eptica will add 30 more employees by the end of the year, meaning it will have over 100 members of staff across its four worldwide offices. It follows major global growth, including the opening of a US office in Boston, Mass., meaning Eptica now has operations in Europe, Asia and North America.
-ends-
About Eptica
Eptica is a global leader in multichannel and multilingual customer interaction management software, covering the email, web, social media, web chat and agent channels. Its software helps millions of individuals worldwide to have meaningful conversations with businesses, improving the experience and deepening engagement.
Available on premise or as a Software as a Service (SaaS) solution, the Eptica customer engagement platform is designed around a central knowledge base, powerful workflow and Eptica Linguistic Services™, advanced linguistic capabilities that enable organizations to quickly understand the tone, sentiment and context of digital interactions and automatically deliver personalized service, helping to provide a competitive edge over their rivals.
Today, more than 400 organizations across all industries and in 15 countries rely on the power of Eptica's platform when talking to their customers. They include AXA, L'Occitane, Dixons Carphone, Crédit Agricole, Domestic & General, AirAsia, Hastings Direct, TUI, Debenhams, Capita and Ageas Insurance Solutions. Eptica's continuing innovation and strong performance has resulted in the company's inclusion in Gartner Magic Quadrants for the last five years.
For further information, please contact:
Measures Consulting
Chris Measures +44 (0) 7976 535147 / chris@measuresconsulting.com