Essel Group Middle East ("EGME") is pleased to announce that at the Annual General Meeting of Simba Energy Inc. ("Simba Energy") held yesterday in Vancouver, Canada, all resolutions put to shareholders were duly passed.
Shareholders voted in favour of the resolution confirming Punkaj Gupta's position on the board. He has been a director since 11th February 2016 and is currently serving as Simba Energy's Chief Executive Officer. Mr Gupta will continue as the Chief Executive Officer of EGME.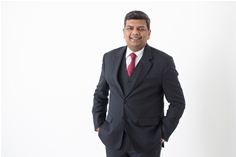 Punkaj Gupta, CEO of Essel Group ME
The shareholders also voted to return Gagan Goel to the board and to support his promotion from Vice-Chairman to Chairman of Simba Energy. Mr Goel will continue as the Managing Director of EGME.
In 2015, EGME secured a 60% participating interest in all five onshore production sharing contracts (PSCs) held by Simba Energy. Under the terms of this definitive farm out agreement, EGME will provide 100% of the exploration expenses on the assets in Kenya, Guinea, Chad, Ghana and Liberia. EGME is the largest single shareholder in Simba Energy, for the purposes of protecting shareholder interests on planned and future project developments.
Gagan Goel, Managing Director of EGME and Chairman of Simba Energy, said, "Punkaj Gupta's appointment as Chief Executive Officer of Simba Energy back in February was an important step to strengthen the ties between both companies, and we are pleased to have the clear support of the shareholders."
Punkaj Gupta, Chief Executive Officer of EGME and Simba Energy, said, "Simba Energy is at an extremely exciting stage of its development, with preparations for the 2D seismic survey now complete on the Block 2-A asset in Kenya, and the shooting of lines about to commence in the next 10-15 days, in preparation for the commencement of a drill programme later in 2016. I look forward to updating shareholders on our progress in due course."
-ENDS-
For further information please contact:
Kriti Ladsaria, Essel Group Middle East +971 42793955
Dorothy Burwell / Charles O'Brien / Benita Barretto, Finsbury +44 (0)20 7251 3801
About Essel Group Middle East
Essel Group Middle East ("EGME") is a diversified natural resources company with a focus on the exploration, development and production of oil, gas and mining assets. The group targets assets in proven basins with near-term production potential and it has operations in Kenya, Guinea, Ghana, Liberia, Chad and Eritrea. EGME is backed by Essel Group, a global conglomerate with a 40-year history spanning numerous industries including the media, packaging, entertainment, infrastructure, education and metals. For further information, please visit www.esselgroupme.com.
About Simba Energy:
Simba Energy Inc. provides investors with well positioned exposure to oil and gas exploration in key areas of Africa with active onshore production sharing contracts ("PSCs") in Kenya and Guinea and PSCs under continuing negotiation in Chad, Liberia and Ghana. Simba's mission is to focus on onshore oil and gas potential in areas that are under-developed or not previously exploited. For further information, please visit http://www.simbaenergy.ca/