Agency breaks the mould with first ever iAd to incorporate Twitpic and Camera
Euro RSCG London has created the first ever iAd to use Twitpic and its camera function ahead of the next TV burst of the iconic Pliktisijiteur Village Pageant campaign which airs on the 1st May.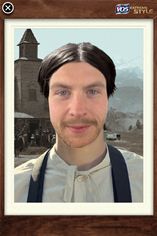 VO5 Village Your Hair iAd
Building on the social momentum generated since the launch of the 'Pageant' campaign which saw it become the 4th most viewed comedy video on YouTube within days of its launch, the interactive iAd invites people to "village your hair" by manipulating a photo with various styles. Each different style gets a reaction from a villager, such as the butter-churner or needle worker, before an Extreme Style look gets you banished from the village for not conforming. At any point you can tweet a picture of your hairstyle to your followers for a reaction.
To explore your Extreme Style look and stand out from the crowd like Luke - the pageant campaign's protagonist and rebel against the luddite villagers – a gallery of four demo videos will help you 'get the look'.
Set to keep you and those you tweet amused for hours the iAd launches on 17th April.
Caroline Saunders, business director at Euro RSCG London said; "The iAd which has a 'first ever' function is further evidence of our technical and social media capability working powerfully to deliver great work for VO5".
Vicky Metcalfe, Marketing Director VO5 said, "We're very pleased with the iAd which builds on the great 'Pageant' work for VO5 Extreme Style and is set to generate further traction amongst our 14-24 year old target that love to discover and share new content."
AGENCY Credits -
Technical Director: Michael Olaye
Business Director: Caroline Saunders
Head of Social Media: Claire Adams
About EURO RSCG London:
Euro RSCG London is a top five UK advertising agency with a client roster including Air France, VO5, Chivas Regal, Citroën, Credit Suisse, Disneyland Paris, Evian, Ideal Standard, Kraft, Nutricia, Mateus, Pernod Ricard, Peugeot, Reckitt Benckiser, Santander Thomas Cook and Yakult.
Euro RSCG London is part of Euro RSCG Worldwide, a leading integrated marketing communications agency made up of 233 offices in 77 countries throughout Europe, North America, Latin America and Asia Pacific.
Contact Euro RSCG London:
Associate Director – Paola Nicolaides
Paola.nicolaides@eurorscg.com
07710 325 096