'Social media visualiser' will identify and enhance the global debate across all digital channels
The Cupola Lab, Euro RSCG London's digital, social media and technology capability has created a unique social media tool to monitor the online pulse and key trends at the One Young World Summit in Zurich. The summit which is running from September 1st – 4th brings over 1000 young leaders, from 170-plus countries to debate some of the most challenging issues facing the world today.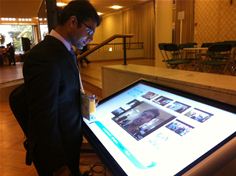 Tablet Preview 1
The 'visualiser' both mines and aggregates social media conversations across various social media channels such as Twitter, Facebook, YouTube and Flickr and feeds them back into the global debate via real-time updates. Key social media statistics are updated hourly via the Cupola Lab's digital infographic which highlights the most influential tweeters, global reach and the key areas which are causing the most online debate. The Cupola lab infographic can be accessed via scanning a QR code on the touchscreen at the event and by visiting the Euro RSCG London site via http://www.eurorscglondon.co.uk/oneyoungworld/. This unique software plays a key role in highlighting the global debate and dialogue giving the audience the ability to have a voice and play their part in making concrete steps to initiate change.
Claire Adams, Head of Social Media, Euro RSCG London says; "One Young World is a unique event in that the power of social media provides the thread to connect and empower a global audience to make change. Unlike other events it gives young people a voice and platform to create real change and global impact via social media. You only need to look at the power that young people have made in changing the global political agenda in the last year to see the impact that social media can have in leading and shaping the debate"
One Young World is the world's first global youth leadership summit bringing together over 1000 young leaders, from more than 170 countries to debate some of the most challenging issues facing the world today. This year's summit is held in Zurich from September 1st – 4th. This is no ordinary conference as there will be hundreds of thousands engaging through social media - Zurich will truly become a global village. One Young World was founded by Havas, Euro RSCG's parent company.
One Young World has the support of some of the world's largest corporations and their leaders including Paul Polman of Unilever, Antony Jenkins of Barclays Global Retail Banking, Güler Sabanci of Sabanci Holding, the largest financial conglomerate in Turkey, and many more. It also includes as counsellors names including Sir Bob Geldof, Muhammad Yunus, Archbishop Desmond Tutu, Joss Stone and Wael Ghonim, the Google executive credited with leading Egypt's recent revolution. The counsellors will facilitate debate and dialogue among delegates around six key topics: politics, global business, media, the environment, health and religion.
About EURO RSCG London:
Euro RSCG London is a top five UK advertising agency with a client roster including Air France, Alberto Culver, Chivas Regal, Citroën, CityJet, Credit Suisse, Disneyland Paris, Evian, Kraft, Nutricia, Mateus, Peugeot, Reckitt Benckiser and Yakult.
Euro RSCG London is part of Euro RSCG Worldwide, a leading integrated marketing communications agency made up of 233 offices in 77 countries throughout Europe, North America, Latin America and Asia Pacific.
Contact Euro RSCG London:
Head of Agency PR – Sarah Van Praagh
Sarah.vanpraagh@eurorscg.com
07974 217 812