Euro RSCG puts conversational media at the heart of its integrated offering in the UK
Euro RSCG London has launched a social media capability utilising world class monitoring tools and providing engagement services for clients and brands. A dedicated social media team will monitor online brand conversations and deliver social insight which will inform strategic development and content creation.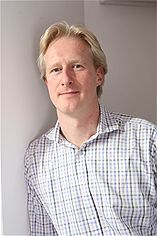 Russ Lidstone
By adding this new capability Euro RSCG (which includes offices in Manchester and Edinburgh) further strengthens its integrated offering in the UK under CEO, Russ Lidstone. In December the agency integrated with Biss Lancaster adding corporate and consumer PR to its multi channel offering which includes advertising, content creation, digital, SEO and channel strategy. This means that Euro RSCG will offer clients truly integrated solutions to any brand challenge.
Russ Lidstone, CEO, said; "We are uniquely placed due to our integrated Advertising and PR proposition to strengthen our Social Media offering with such an innovation. The Cupola Lab is a future fit unit that provides state of the art monitoring and engagement capability, and that puts conversational media at the core of our creative process."
The Cupola Lab is headed up by Claire Adams, a digital specialist who has worked at the forefront of social media since 2006. Claire comes from Social Fuel where she worked on award winning campaigns for Lemsip, Dulux and One Young World to name but a few. Her expertise lies in the creation of innovative social media campaigns and online crisis management.
Claire Adams, Head of Social Media, Euro RSCG London said: "Euro RSCG in the UK is doing something truly unique. By combining social insight. conversational media and world class creative, the way we engage with consumers will be exceptional. This was just too good an opportunity to miss."
A 'Cupola' is an Italian architectural term for a dome shaped 'look out'. Euro RSCG London's office has its very own listed 'Cupola' and this large wooden dome now houses state of the art monitoring and engagement equipment, which can be fully customised to suit a clients social media objectives.
Ends
About Euro RSCG London:
We are a top five UK integrated communications agency with a client roster including Air France, Alberto Culver, Chivas Regal, Citroën, CityJet, Comet, Credit Suisse, Dulux, Disneyland Paris, EDF Energy, Evian, Kraft, Nutricia, Mateus, Peugeot, Reckitt Benckiser, and Yakult.
Euro RSCG London includes Euro RSCG PR (formerly Biss Lancaster) and we are the biggest UK agency to integrate conversational media into the core of the agency, alongside channel strategy, digital, Social Media and advertising. We also have offices in Manchester and Edinburgh.
Euro RSCG London is part of Euro RSCG Worldwide, a leading integrated marketing communications agency made up of 233 offices in 77 countries throughout Europe, North America, Latin America and Asia Pacific. Our ambition is to help clients get to the future first.
Euro RSCG contact details:
Website – www.eurorscglondon.co.uk
Twitter - @eurorscglondon
Facebook – EuroRSCGLondon
To speak to someone:
Head of Agency PR – Sarah Van Praagh 07974 217 812