Euro RSCG London is launching a new multi-media advertising campaign for its global banking client Credit Suisse. The campaign breaks this September in key markets across Europe and Asia as well as the US.
Focusing on the international financial press, key airport OOH sites and a breadth of digital advertising and web content, the campaign targets the bank's existing and prospective clients. However, in a strategic departure, the media plan also includes a variety of lifestyle media brands such as Vanity Fair and Monocle magazines. This approach recognises that whilst the bank's target audience are successful business people from all categories and industry types, they also have lives and interests outside of the world of business and finance. A financial services brand talking to them away from the usual financial media provides an opportunity for a fresh and different kind of creative approach. Media was planned and bought by Euro's sister Havas agency, MPG.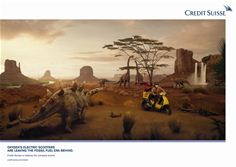 Print Ad Oxygen
The creative strategy behind the campaign builds on the bank's commitment to 'helping clients thrive'. Credit Suisse recognises that its clients have ambitions and goals for the present and for the future, the bank provides the support and advice to help them achieve them. This has created another departure from traditional financial advertising, in that rather than putting the bank at the heart of the story, with the services it provides for clients, the new work showcases client stories and gives the bank a supporting role to that client's successes or ambition.
The advertisements feature a range of Credit Suisse's clients from across the bank, including Jen Kao, the US fashion designer; Lindt, the Swiss chocolate manufacturer; Oxygen, the Italian electric scooter manufacturer; Maccaferri, the Italian industrial group and Baidu, the Chinese search engine.
The executions have a premium look and feel, meaning they can sit as comfortably in high-end lifestyle environments as they can in the Financial Times or Fortune magazine. The slightly surreal and fantastical imagery has been shot by an array of photographers including Tim Walker, Erik Almas and Andy Glass, each bringing their own particular talents to a specific client story.
Gerry Moira, Chairman of EuroRSCG London and creative lead on the Credit Suisse business added, "Credit Suisse is looking to express its client commitment in a very different way. This creative work demonstrates that Credit Suisse puts clients first by sharing this global campaign with them. This is more than a case-history campaign, it's a celebration of client and bank working together."
To find out more about the Credit Suisse campaign please go to www.credit-suisse.com/clients
End
About EURO RSCG London:
Euro RSCG London is a top five UK integrated communications agency with a client roster including Air France, Alberto Culver, Chivas Regal, Citroën, CityJet, Comet, Credit Suisse, Dulux, Disneyland Paris, EDF Energy, Evian, Kraft, Nutricia, Mateus, Peugeot, Reckitt Benckiser, Santander and Yakult.
Euro RSCG London includes Euro RSCG PR (formerly Biss Lancaster) and we are the biggest UK agency to integrate conversational media into the core of the agency, alongside channel strategy, digital, Social Media and advertising. We also have offices in Manchester and Edinburgh.
Euro RSCG London is part of Euro RSCG Worldwide, a leading integrated marketing communications agency made up of 233 offices in 77 countries throughout Europe, North America, Latin America and Asia Pacific. Our ambition is to help clients get to the future first.
Euro RSCG contact details
Website – www.eurorscglondon.com and www.credit-suisse.com
Twitter - @eurorscglondon
Facebook – EuroRSCGLondon
To speak to someone
Head of Agency PR – Sarah Van Praagh 07974 217 812