Case studies at VNU Media and London Grid for Learning Trust demonstrate practical benefits of cloud adoption
London, July 13, 2012 – Cloud industry network EuroCloud UK (http://eurocloud.org.uk/) this week named the winners of its 2012 Awards. The UK winners now go forward to compete in the pan-European contest, to be awarded this October at the EuroCloud Congress (http://eurocloudcongress.org/) in Luxembourg. Participating EuroCloud countries include Austria, France, Germany, Hungary, Luxembourg, The Netherlands, Nordics (3 countries), Slovenia and Switzerland.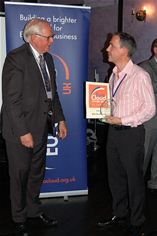 EuroCloud Award presentation
The UK winners were selected from a total of 57 entries by an independent panel of judges. At a special event held on Wednesday this week, former CIO and industry expert Dr Richard Sykes presented the awards as chair of the judging panel. The other judges were Professor Fred Piper of the Information Security Group at Royal Holloway College and Max Cooter, editor of CloudPro, which supported the Awards as a media partner. The Award winners and finalists in each category were as follows.
Best Cloud Offering
Ping Identity won the Best Cloud Offering Award for Ping Federate 6.6, which provides a centralised point of control for single sign-on to cloud services using any number of separate identity sources. Other finalists were web and email security and archiving provider iCritical and language translation platform XTM International.
"Winning this award highlights the importance of cloud identity in the security space," commented Andi Hindle, Director, International Business Development & Strategy at Ping Identity. "Access management is no longer just about the device being used or the location, it's the identity of the individual that now needs to be the centre of intelligent data access."
Best Cloud Start-up
The Award for Best Cloud Start-up went to Advertising Loyalty UK, whose Adpoints service rewards people for watching and interacting with video advertising. It is preparing to launch later this month. Other start-up finalists were My Wealth Cloud, a service to digitise and store personal home documents, and SkyDox, a cloud-enabled file sharing, synchronization, storage and collaboration platform.
"Adpoints is delighted to have been awarded the 'Best Start up' category of the EuroCloud UK Awards," said Jonathan Dunham, CIO, Advertising Loyalty UK. "As a business whose concept is original and innovative in our field of video advertising, it's very special to be recognised as being on the cutting edge in our use of technology too."
Best Cloud Case Study, Commercial Sector
Subscription commerce vendor Zuora won this award with its case study at VNU Media, whose recruitment and job posting operation improved efficiency by 40% and was able to roll out products up to four times faster. Other finalists in this category were D2C/WordFrame and Really Simple Systems.
"It's clear that Europe is truly embracing the cloud and the Subscription Economy," said Tien Tzuo, CEO and Founder, Zuora. "VNU Media is a great example of how an international media company can adopt the cloud over traditional on-premise ERP to power mission critical subscription business processes."
Best Cloud Case Study, Public Administration:
IT management provider CentraStage won this award for its work with London Grid for Learning Trust, where it will provide IT management from the cloud to 2,500 London schools, supporting as many as 250,000+ PCs, laptops and servers. Other finalists in this category were IMGroup and SkyDox.
"We are delighted to be part of the EuroCloud UK Awards," said Ian van Reenen, CTO CentraStage. "The LGfL project has a very noble cause, it will not only help increase pupil attainment across London but will also save local authorities in London millions of pounds and CentraStage is very proud to be part of it."
Best Business Impact
The judges wished to specially commend blur Group's Global Services Exchange, which allows more than 20,000 businesses globally to buy and sell business services, such as creative, marketing, media and technology projects. Due to a small number of entries in this newly introduced category, there were no other finalists and it was not possible to formally declare a winner.
"It's an honour to be recognized by EuroCloud in this way," said Philip Letts, CEO and Founder of blur Group. "We've embraced cloud technology since we were founded, and it is the cornerstone of our Global Services Exchange, making it possible to disrupt traditional industries and sourcing of services."
Thanking the entrants and judges for all their efforts, Phil Wainewright, chair of EuroCloud UK and vice president of EuroCloud Europe said: "The breadth and quality of entries to this year's Awards has been tremendous and demonstrates the growing maturity of the UK cloud industry. Our winners and finalists provide valuable, real-life examples of the benefits of cloud for business. This is concrete evidence of the positive impact of cloud on the wider economy, which EuroCloud will highlight in our work with policy makers at the European Commission and elsewhere."
ENDS
About Ping Identity
Ping Identity provides cloud identity security solutions to more than 800 of the world's largest companies, government organisations and cloud businesses. With a 99% customer satisfaction rating, Ping Identity empowers more than 42 of the Fortune 100 to secure hundreds of millions of employees, customers, consumers and partners using secure, open standards like SAML, OpenID and OAuth. Businesses that depend on the cloud rely on Ping Identity to deliver simple, proven and secure cloud identity management through single sign-on, federated identity management, mobile identity security, API security, social media integration, and centralised access control. Visit pingidentity.com for more information.
About Adpoints
Adpoints rewards people for watching and interacting with video advertising, delivering highly engaged viewers to advertisers. Via its innovative video platform, it enables consumers, advertisers, publishers and merchants to move from simple impressions through to interactions and engaged transactions. Adpoints rewards its members for their time and attention in exchange for loyalty points, whilst advertisers reach, qualify and convert large-scale target audiences. Adpoints' mission is to make advertising a more enjoyable, more involving and more rewarding experience for viewers around the world. Adpoints is owned by Advertising Loyalty UK Ltd.
About Zuora
Zuora is the global leader in subscription commerce and billing, helping companies in every industry transition to the Subscription Economy. Enterprise leaders and high-growth companies alike use Zuora's multi-tenant cloud platform to launch, scale, and monetize their subscription services. Built from the ground up by SaaS industry veterans from salesforce.com, PayPal, and Webex, Zuora services innovative customers like Informatica, Tata Communications, Box.net, Ning, GigaOm, Xplornet, Ustream and Reed Business Information. To learn more about Zuora, please visit http://www.zuora.com/.
About CentraStage
From sketching out the earliest ideas on a whiteboard, theCentraStage vision was simple - to re-define IT management technology, via the cloud. The objective was to build a technology-as-a-service that was low touch, light on the device and the network, simple, uncluttered and intuitive to set-up and manage. CentraStage is an IT management platform with a difference – affordable, advanced remote monitoring and management in the cloud. As a cloud-based device management platform designed to improve the management of servers, PCs, laptops, tablets and smartphones, CentraStage can save IT support organisations both time and money. From individual users to sophisticated IT managed service providers; CentraStage is designed to run on any device.
About blur Group
blur Group started building expert communities to deliver creative services projects, launching for business in 2010. Its global services exchanges change the way businesses buy and sell services, using a managed, cloud-based Trading platform, social computing and expert sourcing. Find out more at http://www.blurgroup.com/
About EuroCloud and EuroCloud UK
EuroCloud (http://www.eurocloud.org/) is the only pan-European network of cloud vendors and industry experts, with a presence today in around 30 European countries, organising events across Europe and acting as an influential voice on European cloud policy. EuroCloud UK (http://www.eurocloud.org.uk/) is where cloud business people in the UK meet to share their experiences, grow together and advance the future of the industry.
Further information
Phil Wainewright
EuroCloud
eurocloud@pcxvs.com
Lindsay Smith
EuroCloud UK
lindsay.smith@eurocloud.org.uk
Gemma Rowlan, Hotwire PR on behalf of Ping Identity
Gemma.Rowlan@hotwirepr.com
Claire Rees, Ping Identity
crees@pingidentity.com
Geraldine Rizzo, Zuora Inc
geraldine.rizzo@zuora.com
Aneel Baqar, CentraStage
aneel.baqar@centrastage.com
Cordelia Meacher, FieldHouse Associates for blur Group
Cordelia@fieldhouseassociates.com
Dorothy Mead, blur Group
dorothy@blurgroup.com