…8 out of 10 businesses looking to support language skills to improve communications and business efficiency….
MUNICH - Wednesday 25th January 2012 - dp today released findings from a new European survey* entitled "Languages and business audit". The data revealed that 71 percent of organizations believe that they will be delivering more blended learning content within the next two years. Furthermore, eight out of ten organizations (79 percent) regarded language learning to be a main focus in their workforce development plans.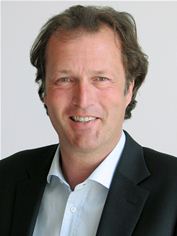 Armin Hopp, Founder and President of Speexx
The study, which questioned 103 senior L&D managers, HR managers and business education staff, across Europe, showed that blended learning (50 percent) was the most important channel for delivering training content today. This was closely followed by classroom based learning (44 percent), mobile learning (38 percent), and social learning (12 percent).
However the way staff are trained is expected to change by 2014. The data showed that 71 percent of respondents stated that "blended learning" – a mix of e-learning, mobile learning and virtual learning – will be the primary method of delivering training (an overall increase of 21 percent from what is delivered now). Meanwhile classroom training will dramatically fall to only 17 percent (from 44 percent). The data also highlights that one out of five organizations expects that "social and informal learning" will play a greater role in staff development too.
Armin Hopp, Founder and President of dp, commented, "The survey clearly supports that the trend for blended learning will continue to grow over the next two to three years and that organizations will significantly increase their reliance to technology to deliver flexible and cost effective training to their workforce. Expectations of what L&D professionals and HR managers can deliver will also be much higher from employees who are likely to be dispersed in more than one location and require faster learning tools."
Key findings of the European survey include:
Participants said that English and Chinese were viewed as the most important two languages to learn (74 percent) and this was followed by German (26 percent), French (15 percent), and Spanish (9 percent).

Many organizations continued to rely on e-learning to deliver up to 60 percent of their overall workforce training; and e-learning is expected to increase again until 2014 to 71 percent of overall training. Those interviewed cited flexibility and cost savings as being the main drivers for this upward trend.

Improved language skills are getting more mindshare within businesses as 79 percent of those interviewed are actively supporting staff in language learning.

Classroom based teaching will dramatically fall in the next three years, but personal tutors were still cited as being an important aid in supporting effective learning (82 percent) which implies tutor support over the internet is also likely to grow.

Participants cited three main barriers to the introduction of e-learning: Lack of staff skills to manage their own learning (29 percent); Technology does not work (29 percent); Line manager reluctance (24 percent).
Hopp adds, "A company that operates with a vision for cultural openness and mutual understanding will create opportunities for more business and export. Languages provide the key to communicating with clients and operating within multiple jurisdictions. One language is no longer enough to satisfy every communication need. Therefore companies who want to gain a competitive advantage will need to resourcefully upskill staff and in doing so will be far better placed to reach out to new target markets and to build lasting, strategic relationships."
A whitepaper entitled, 'Online communication skills training for a diverse global workforce' provides further information on the survey. It is available by visiting www.speexx.com/en/whitepaper.
Notes to editor
*The survey was conducted by dp at the international conference entitled 'Languages and Business' which was held in Berlin 28th - 30th October 2011.
About dp | Speexx
digital publishing (dp), the provider of award-winning online corporate language training, offers practical business courses in five languages: English, French, German, Italian, and Spanish. The service is provided through a secure online portal or integrated with an existing L&D system to deliver immediate benefits to private and public sector organizations.
The Speexx tools and services are easy to use and scale to the needs of organizations of any size. With more than 7 million users and 1,200 tutors across 80 countries, Speexx is one of the most widely used educational software solutions worldwide. dp has been honored with over 200 international awards. Moreover, Speexx has been certified annually by external auditors under the Worlddidac Quality Charter and ISO 9001:2008 and have received full certification in SCORM 2004 3rd Edition. The company was founded in 1994 by Armin Hopp, Alfred Ertl and Jörg Koberling, and is headquartered in Munich, London, Paris, Milan, Madrid and Shanghai. For more information, please visit www.speexx.com.
Media contact:
Lena Ahad
Technology PR
UK phone: +44 (0) 7908 725212
lena@technologypr.eu
www.technologypr.eu