Mia Electric vehicles powered by Evida battery packs to be delivered to first fleet Customers in Q3 of 2011.
Coventry, UK, 2 June 2011 – Evida Power, www.evida.com, Ltd., a leading designer and manufacturer of lithium-ion battery packs for electric vehicles (EVs), is pleased to announce the commencement of manufacturing of full-specification homologated battery packs for the German and French electric vehicle maker, Mia Electric. The custom-designed lithium-iron phosphate 8 kWh energy systems will be used to power the automaker's debut three and four-seater microbus models.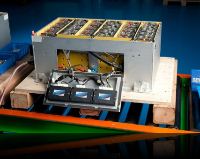 Evida battery pack
Evida has begun shipping the battery packs, which will be integrated within the vehicles on Mia Electric's assembly line in Cerizay (France) from 1 June 2011. During the full-scale production programme, Evida will supply the automaker with up to 10,000 units per annum until 2016, and Mia's first zero-emission city vehicles are scheduled to be delivered to municipal and commercial fleet operators in the third quarter of this year.
Evida previously announced a $250 million contract with Mia Electric, one of the largest deals in the EV sector to date, at the recent 2011 Geneva International Motor Show. Since then, the battery pack manufacturer's workforce has grown to over twenty highly-experienced automotive engineers and supply chain managers across the organisation's principal locations at their new European headquarters in Coventry (UK), as well as in its Chinese production facility and Israel satellite office. In addition, Evida has deployed engineering personnel to Mia's French assembly plant in order to ensure the continued and seamless integration of the battery system within the Mia vehicles.
Commenting on the announcement, Trevor Power, Evida's Chief Operating Officer explains, "The start of the volume manufacture of battery packs for Mia Electric is significant and signals a clear demonstration of our ability to offer customers a bespoke and cost effective solution which can be rapidly progressed from concept to production."
"We have worked closely with Mia Electric to create a fully-integrated battery pack which provides the optimum balance of range, power, and cost to the end-user. Our cost-effective solution allows Mia to achieve a price point for its fully homologated EV that will enable it to achieve breakthrough sales volumes," adds Mr Power.
Mr. Laurent Buffeteau, Managing Director of Mia Electric, says: "Evida's battery technology lies at the heart of our forthcoming model range and has been custom designed to the specification of each of our vehicles. The launch of the production process is the result of the very successful and ongoing collaboration between both parties, and represents a major step forward in our desire to offer customers a practical and affordable zero-emission mobility solution."
Notes to Editors
About Evida
Evida designs, develops and manufactures high-quality and cost-effective lithium-ion battery packs for the electric vehicle (EV) market. Evida's products are custom engineered to suit specific client needs and are delivered complete with battery management systems (BMS) and CAN integration. A portfolio company of Terra Venture Partners (www.terravp.com), Israel's premier clean energy venture capital fund, Evida is a US-registered company with operations in Europe, Israel and China, and aspires to become a leading enabler of electric vehicles, providing battery pack design, EV integration services and customised financial solutions to enable the uptake of commercial electric fleets. For more information on Evida, visit www.evida.com.
Media contacts
For further press information, images, and interview requests, please contact:
Ranbir Sahota
E-mail: ranbir@vitispr.com
www.vitispr.com
Tel: +44 (0)121 242 8048