High Wycombe, UK, 18 October 2016: At Kiosk Summit North 2016 (19 October, Etihad Stadium, Manchester), Evoke Creative and imageHOLDERS will be joining international POS printer manufacturer Star Micronics. Evoke designs and manufactures interactive digital solutions, supplying kiosks, digital signage, self-service and software to retail, hospitality and libraries; major clients include McDonald's and Debenhams. imageHOLDERS designs and manufactures tablet enclosures, iPad kiosks and innovative mPOS solutions which allow your business to engage customers and drive sales; the company provides three of the leading bookmakers in the UK with kiosk solutions.
Star offers a wide range of open frame and packaged printers for the kiosk sector. Both Evoke and imageHOLDERS turned to Star to provide a reliable, high performance printer that could handle the demanding environment in which the kiosks operate. Choosing between the encased TSP700II printer and the TSP654II, Star offers the perfect solution for ease of operation in high value kiosk applications. Providing the same level of performance as an open frame printer, an encased printer is easier to install, service and maintain; factors that are driving their increased use in kiosks. Furthermore, the unique multi-functional capability of the TSP700II to print receipts, tickets, labels and barcodes at 250mm/second has driven its deployment in an ever wider variety of kiosk applications and environments.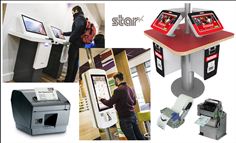 Star Micronics at Kiosk Summit North 2016
As Annette Tarlton, Marketing Director, Star Micronics EMEA, states: "We are delighted to be exhibiting at Kiosk Summit North with Evoke demonstrating its kiosks for McDonalds and Travelodge while imageHOLDERS will be showcasing its kiosk for Ladbrokes on our stand. Given the importance of the kiosk sector, our presence at this event provides an excellent platform to exhibit our extensive range of kiosk printers that precisely meet the needs of an evolving kiosk industry."
Background Information on Star Micronics
Founded in 1947, Star Micronics is one of the world's largest printer manufacturers and has facilities for worldwide production, marketing and support. Employing over 1900 staff and achieving turnover in excess of £250 million, Star Micronics has developed a POS printer portfolio that spans thermal and dot matrix printers and mechanisms, designed for barcode, ticketing, receipts and labelling. Star's proven technology is also being utilised to install print mechanisms in multimedia kiosk environments. The Star Micronics' range is available internationally via a distribution channel comprising distributors and dealers.
-oOo-
For further information, please visit www.Star-EMEA.com or contact:
Annette Tarlton
Marketing Director
Star Micronics EMEA
Tel: +44 (0)1494 471111
Email: Atarlton@Star-EMEA.com
Claire Smith
PR Manager
Star Micronics EMEA
Tel: +44 (0)1494 471111
Email: Csmith@Star-EMEA.com