High Wycombe, UK, 27 September 2016 - At Restaurant Tech Live 2016 (27 - 28 September, ExCeL, London), Evoke Creative will be joining Star Micronics on Stand 1150. Evoke helps brands to engage with their customers in creative and innovative ways by designing and manufacturing interactive digital solutions, supplying kiosks, digital signage, self-service and software to retail, hospitality and libraries; major clients include McDonald's and Debenhams.
Evoke was recently approached to conceive the future of self service in-house for McDonald's. Global demographic and cultural differences mean the product had to be as intuitive and approachable as possible whilst retaining a clean, friendly aesthetic. The volume of production and the potential global reach meant the product had to be produced efficiently, shipped and installed worldwide in the safest and simplest way and remain in operation in demanding environments 24/7. Evoke used its extensive technical knowledge to design an adaptable modular product range capable of handling multiple hardware options from the diverse markets the company operates in.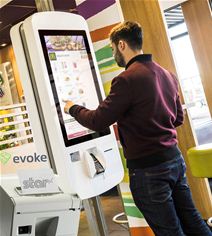 Evoke joins Star Micronics at Restaurant Tech Live 2016
The end product has set a new standard for self-service machines within the industry. Innovation at every stage of the process enabled Evoke to produce the best product at the best price whilst ensuring quality and reliability were kept as the highest priority.
For printing receipts, Evoke turned to Star to provide a reliable, high performance printer that could handle the demanding environment in which the kiosk operates. Selecting the robust encased TSP700II, this printer provides the perfect solution for ease of operation in high value kiosk applications. Providing the same level of performance as an open frame printer, an encased printer is easier to install, service and maintain; factors that are driving their increased use in kiosks. Furthermore, the unique multi-functional capability of the TSP700II to print receipts, tickets, labels and barcodes at 250mm/second has driven its deployment in an ever wider variety of kiosk applications and environments.
Evoke's Technical Director Dean Ward said: "We needed a reliable, effective printing solution, and Star printers were able to provide the perfect model which also fits within our design for tool-free replacement of internal components, and fuss-free changing of printer rolls. As the primary supplier to McDonald's UK stores it was essential for us to source components which could be produced in bulk and work every time, Star printers are our go to for these projects. We look forward to demonstrating the kiosk for McDonald's at Restaurant Tech Live on the Star stand."
As Annette Tarlton, Marketing Director, Star Micronics EMEA, states: "The established and successful partnership between Star Micronics and Evoke provides a level of service and experience that is unrivalled within the kiosk industry. Working with major operators across a number of industries, we offer kiosk solutions that provide the technical expertise and creative design to ensure kiosks continue to develop an ever greater presence across a wide range of markets."
Background Information on Star Micronics
Founded in 1947, Star Micronics is one of the world's largest printer manufacturers and has facilities for worldwide production, marketing and support. Employing over 1900 staff and achieving turnover in excess of £250 million, Star Micronics has developed a POS printer portfolio that spans thermal and dot matrix printers and mechanisms, designed for barcode, ticketing, receipts and labelling. Star's proven technology is also being utilised to install print mechanisms in multimedia kiosk environments. The Star Micronics' range is available internationally via a distribution channel comprising distributors and dealers.
-oOo-
For further information, please visit www.Star-EMEA.com or contact:
Annette Tarlton
Marketing Director
Star Micronics EMEA
Tel: +44 (0)1494 471111
Email: Atarlton@Star-EMEA.com
Claire Smith
PR Manager
Star Micronics EMEA
Tel: +44 (0)1494 471111
Email: Csmith@Star-EMEA.com