Restaurant and Bar Tech Live 2018 (25-26 September 2018, London, UK) - BIXOLON (stand 2460) a leading global manufacturer of advanced Mobile Label and POS printers, will be encouraging visitors to explore its exciting range of Hospitality printing solutions throughout the show.
Highlighting the ongoing requirement for flexible, hospitality printing solutions, BIXOLON will be showcasing its multi-functional SRP-Q300 3-inch (80mm) Direct Thermal cube desktop printer series with flexible mPOS printing. Including the SRP-QE300 entry-level printer with USB and Ethernet connectivity, plus 200mm/sec print speeds and 180dpi print resolution. SRP-Q300H featuring an intelligent hub (B-gate), connecting up to 4 USB peripheral devices (scanner, cash drawer, customer display, RFID reader, scales, etc.) to the host tablet (via Bluetooth) and providing a single charging port. Alongside the NEW SRP-Q300B 3-inch (80mm) Direct Thermal cube Receipt and Ticket printer with built-in battery supporting a 24V Li-ion 2,750mAh rechargeable battery ideal for alfresco dining, food trucks and more.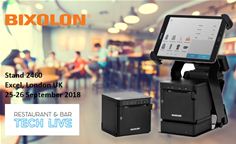 Restaurant and Bar Tech Live
Celebrating its fifth consecutive year as the Global No1 Mobile Receipt Printer Manufacturer as quoted by independent Japanese Research Company Chunichisha, BIXOLON will also be exhibiting its comprehensive range of 2", 3" and 4" mobile printing solutions throughout the show. Including its recently launched next generation 3-inch mobile printer the SPP-R310plus, featuring enhanced connectivity add-ons including Bluetooth 4.1 and dual-band Wi-Fi connectivity.
In addition BIXOLON will feature devices such as the SRP-S300 3-inch linerless label printer with Taken Sensor™, the highly reliable, ergonomic SRP-275III dot-matrix kitchen printer and SRP-F310II economic, splash resistant, 3" front exit, direct thermal receipt printer. Alongside the SRP-E770III economical 4-inch direct thermal label printer, boasting print speeds of 127mm/sec and 203dpi print quality to produce high quality text, graphics and barcodes for all types of label for fast food orders, food labelling and more.
"Restaurant and Bar Tech Live provides the perfect platform to showcase the latest in hospitality printing innovation," cites Charlie Kim, Managing Director, BIXOLON Europe GmbH. "The show will allow BIXOLON to exhibit its latest cutting edge printing technology and highlight its on-going dedication to developing and pushing the boundaries of technology within the hospitality market."
- o -
About BIXOLON
BIXOLON is a leading global manufacturer of innovative, advanced printing technologies including point-of-sale receipt, label, Auto ID and mobile printers for a wide range of environments. Millions of BIXOLON printers are used today in retail, hospitality, healthcare, banking, ticketing, post/parcel, warehousing and other transaction-intensive industries. In 2018, for the fifth consecutive year BIXOLON was named global mobile receipt printer market leader by Japanese research company Chunichisha.
For more information contact:
Annette Carr
European Marketing Manager
Bixolon Europe GmbH
Marketing@bixolon.eu
Tel: +49-211-68-78-54-0
www.BixolonEU.com
Jada Kim
Senior Marketing Manager
Bixolon Co., Ltd.
ekim@bixolon.com
Tel: +82-31-218-5500
www.Bixolon.com
TK Han
Senior Product Manager
BIXOLON America Inc.
sales@bixolonusa.com
Tel: +1 858 765 5480
www.BixolonUSA.com