Livingstone Partners advises MML Capital on sale of land mine clearance group
LONDON, 3 December 2012 – A British company which saves lives across the world's most hazardous conflict zones has been acquired by a German group in a deal arranged by Livingstone Partners.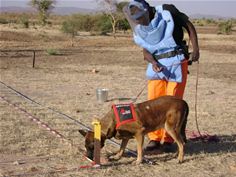 Landmine sniffer dog
MineTech International provides land mine clearance and explosive ordnance disposal (EOD) services for governments, NGOs such as the United Nations, and private sector businesses within the oil and gas sector. Livingstone advised the shareholders of MineTech, including private equity investor, MML Capital Partners, on the sale.
Headquartered near Gloucester, MineTech was established in 1989 to work in former conflict areas across the developing world, clearing 'explosive remnants of war' so that land can be redeveloped for humanitarian and commercial purposes. Since then, MineTech has completed over 300 contracts in 45 countries, and is currently working in Iraq, Afghanistan, Kuwait and South Sudan.
The company has been bought by Dynasafe Area Clearance Group. Dynasafe specialises in the removal and management of unexploded ordnance, CBRNe (Chemical, Biological, Radiological, Nuclear explosives) and other hazardous materials. The group is backed by German private equity investor Perusa Partners, based in Munich. MineTech's business is very complementary to Dynasafe's existing service offering.
Corporate finance advisory firm Livingstone Partners was appointed by MineTech's shareholders at the beginning of 2012 to seek a strategic partner for the business. Perusa emerged as the strongest candidate among several potential acquirers for the MineTech business.
"The demand drivers for EOD services are strong. Conflicts across the Middle East and Africa have left swathes of land that need to be cleared and re-claimed for development and commercial purposes. MineTech is at the forefront of this industry." said Alex John, Director at Livingstone Partners.
Phillip McCreanor, Partner at Livingstone added: "MineTech delivers a niche service in fairly hostile environments, placing it at the more challenging end of the risk spectrum. However, we were confident that MineTech's expertise and quality would shine through. Dynasafe saw this."
Luke Jones, Investment Director at MML, commented: "The sale of MineTech marks the conclusion of our extremely successful investment in the Exploration Logistics Group, since Livingstone first introduced us to the group in 2010. We would like to thank the management and staff for their dedication under our ownership and wish them continued success as part of the Dynasafe Group."
Christopher Kemball, departing Chairman of MineTech, added: "I would like to thank Livingstone for their invaluable support through this complex process. In Dynasafe and Perusa I believe they have found the natural owner for the business."
Perusa's financial and legal advice was provided by Ernst & Young and Faegre Baker Daniels, with Pinsent Masons and Jeff Soal & Associates providing legal advice to the selling shareholders.
Notes to Editors:
For high res images, please click here:
http://www.flickr.com/photos/fourthdaypr/8240472111/in/photostream/
http://www.flickr.com/photos/fourthdaypr/8241540196/in/photostream/
About Livingstone Partners LLP
Livingstone Partners LLP is an international mergers and acquisitions ('M&A') advisory firm with offices in London, Chicago, Düsseldorf, Madrid and Beijing. Its 80 staff completed 43 deals worth £1.6bn in 2011 and is on course to close 39 deals in 2012.
www.livingstonepartners.co.uk
About MML Capital Partners LLP
MML Capital is a private equity firm that provides capital to private businesses for expansion, acquisitions, recapitalisations and management buyouts, contributing between €10 million and €50 million as part of each bespoke investment.
www.mmlcapital.com
For more information please contact:
Lisa Henshaw
Fourth Day PR
lisa@fourthday.co.uk
020 7403 4411