London, 29 March 2012: As savers think about where to invest their ISA ahead of the end of the tax year, Tom Stevenson, Investment Director, Fidelity Worldwide Investment, highlights some tried and tested principles of successful investment:
1) Diversify your portfolio: "A well constructed portfolio should be diversified across asset classes to reduce risks and smooth returns. Defensive assets such as bonds and cash can fare better during periods of high market volatility, while growth investments like property and stocks provide attractive returns when economic conditions are expected to be more favourable. The value of bonds and stocks can often move in opposite directions, but taken together, a portfolio that invests in a range of quality assets should deliver smoother returns with lower risk."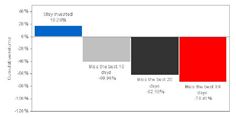 Source: MSCI, Fidelity analysis. Daily returns based on the S&P500 Index from 31/10/2001 to 31/10/2011.
An easy way to diversify is to invest in a multi asset fund where a fund manager allocates money between different asset classes. It is their role to monitor how the markets are behaving and change the allocation accordingly. Examples of these funds include Fidelity Asset Allocator funds, Fidelity Multi Asset funds and Fidelity Multi Manager funds.
2) Don't try to time the market: "It is extremely difficult to predict the best time to enter or exit the market. The speed at which markets react to news means stock prices very quickly absorb the impact of new developments. When markets turn, they turn quickly. Those trying to time their entry and exit are therefore likely to miss the bounces. The chart below highlights the impact of an investor in US stocks missing out on the market's best days over the past 10 years. In 2001, for example, missing out on just the 10 best days in the market would have resulted in a negative return for the year as a whole."
To avoid mis-timing the market, set up a monthly savings plan. You can invest from £50 a month into any fund on Fidelity's fund supermarket. Another alternative is phasing; investors choose their fund and their money is invested in six equal instalments. When prices are high, fewer units are brought and when prices are low, more are brought. Interest is paid on any money awaiting investment and investors can change their mind and invest any remaining cash immediately at any time after the first instalment has been made. All six instalments are classed as being invested in the same tax year even if the instalments fall across a tax year end.
3) Take a long term view: "Over short periods, markets can be volatile and this can result in a wide range of positive or negative returns. But the longer you stay invested, the greater the probability that your investment will generate a positive return. The graph below from Barclays Capital's latest Equity Gilt Study shows how the probability of negative outcomes diminishes over longer holding periods."
Using planning tools, savers can work out how long they have to achieve goals such as an early retirement, paying off your mortgage or paying for a child's education and the steps they need to take to achieve these aims. The tools take into account the amount of risk that individuals are willing to take, their current income and existing savings. They then present investment solutions to the investor. Using these tools reinforces the need to take a long term view and to start investing as soon as possible.
4) Consider the value of dividends: "When things are going well and the stock market is rising strongly, the extra returns from dividends may seem relatively unimportant. However, in weaker markets, the return from dividends becomes a valuable contributor to the total return. Furthermore, the impact of dividends actually becomes amplified over time due to the compounding effect of reinvesting dividends. For example, according to Barclays Capital (Equity Gilt Study 2012) $100 invested in the US stock market in 1925 would have grown to $9,229 by the end of 2010 without re-investing dividends, but to $299,395 if dividend income was reinvested throughout the period. Dividends also have the advantage of being more predictable than corporate earnings because companies strive to maintain their dividends even if their profits are temporarily in decline."
Funds such as Fidelity Global Dividend make use of the dividend story and allow for a greater diversification of stocks with an equity portfolio, not just by geography but also by industry sector.
Compounding is the concept of simply earning interest on interest; £100 earning ten per cent this year becomes £110 earning ten per cent the next year which becomes £121 earning ten per cent the next year – and so on. It is the mathematical equivalent of cells multiplying in a Petri dish.
- ENDS -
Fidelity Worldwide Investment is one of the UK's largest investment fund managers with over 660,000 customers in the UK. We look after assets worth $212.0 billion and are dedicated to achieving the best possible returns for our investors.
Fidelity provides UK investors with tax-efficient savings vehicles; such as ISAs, Junior ISAs and Self Invested Personal Pensions (SIPPs). Investors can choose from over 1,200 funds from more than 70 investment providers via their fund supermarket, FundsNetwork. This includes a wide range of award winning investment funds and investment trusts.
Fidelity has developed a large education section on www.fidelity.co.uk, to help customers with their investment decisions, these include online tools, such as: myPlan Portfolio Quickstart, Retirement planning tools and Chart and Compare funds. As well as information on ISA allowances, fund prices and an ISA guide to help investors make the most of their annual tax limits.
Fidelity also offers a Wealth Management Service for customers with over ₤100,000 to invest.
Office Address: Fidelity Worldwide Investment, 25 Cannon Street, London, EC4M 5TA
Website: https://www.fidelity.co.uk