Big brand finalists include: Being, Cisco, Chilis Bar & Grill, Hewlett Packard Enterprise, VistaPrint and many more
Winners announced following The Employee Engagement Conference in Chicago on June 7, 2018 – tickets still available
Chicago – May 18, 2018 – The 2018 North American Employee Engagement Awards (EE Awards) in association with Maritz Motivation Solutions, today announces its shortlist of companies that put workforce engagement at the heart of their strategy.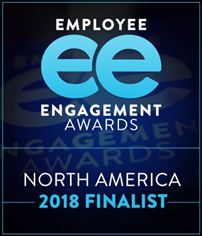 Employee Engagement Awards North America 2018 Finalist
The winners will be announced at a ceremony during the North American Employee Engagement conference on June 7, 2018 in Chicago. The day will see speakers from respected brands such as Cisco, Chillis Restaurants, Boeing, Harvard Business School, past award winners and leading EE experts. The conference will provide practical advice to help Engagement professionals achieve better employee business results. Visit here to register - https://us.ee-awards.com/conference/
Founder Matt Manners said: "In our fourth year, we are seeing a step-change in entries and the investment being made in Employee Engagement within organisations. The boardroom seems to be waking up to the responsibility they have for their employees and the positive impact it can deliver the bottom line if they do. Join us in Chicago to see real world examples this June."
The full 2018 North American Employee Engagement Awards Finalists
The finalist lists have been independently judged by our esteemed panel. There will be a winner and one highly commended awarded in each category.
1. Employee Culture & Purpose Award
Abstrakt Marketing Group
Acceleration Partners
Alorica
Arity
Encompass Health Corporation
Engage2learn
Globalization Partners
Home
LaSalle Network
Medical Solutions LLC
United Shore
WebPT
Young Living Essential Oils
2. Innovation in Employee Engagement Award
Boeing
BroadSoft
Leo Burnett Group
SeaLand
Southern Company
Tata Consultancy Services
Vistaprint
WithumSmith+Brown, PC
3. Unsung Hero Award
Raymond Leung – Cisco
Felicia Elliot-Nakhla – Planet Hollywood
Darren Levine – The Regional Municipality of Durham Social Services Department
Gabriel Vives – SeaLand
Sanjay Acharya – Sanofi Pasteur
4. Employee Engagement Professional of the Year Award
Carmen Collins – Cisco
Chris Snow – Caesars Entertainment
Lauren Willis – American Advisors Group
Thiago Covre – SeaLand
5. Reward and Recognition Award
BroadSoft
Colorado Department of Transportation (CDOT)
Events DC
Grupo Salinas
Sysco Corporation
Young Living Essential Oils
6. SMB Organization of the Year Award
American Advisors Group
BroadSoft
Empire Today
Nagarro
TouchPoint One
7. Enterprise Organization of the Year Award
Chili's Grill & Bar
Cisco
Tata Consultancy Services
8. Government Agency of the Year Award
Colorado Department of Transportation (CDOT)
State of Michigan
Washington State Department of Corrections
9. Employer Brand Award
Alorica
BroadSoft
Cisco
Collette
10. Internal Communications Award
Alorica
BroadSoft
HPE
N2 Publishing
11. Wellbeing Award
Baylor Scott & White Health
Grupo Salinas
N2 Publishing
Perrigo
12. Social Responsibility Award
Abstrakt Marketing Group
Atos
Grupo Salinas
SeaLand
Tata Consultancy Services
United Shore
13. Best Use of Technology in Employee Engagement Award
EPAM Systems
Limeade
PVH Corp.
14. Employee Engagement Vendor of the Year Award
Achievers
Cerkl
Fuel50
Limeade
SocialChorus
StaffConnect Inc.
Ultimate Software
Waggl
YouEarnedIt
"Our mission day-in-day-out is to help conceive and successfully implement engagement programs that deliver a culture of purpose and passion," said Chris Dornfeld, VP and general manager, employee engagement solutions, Maritz. "There is no greater challenge. It's rewarding to see organizations recognized for their efforts, and to have an opportunity to learn from their examples."
Sponsorship
There are some opportunities available for companies to sponsor the conference. For more information please contact matt@ee-awards.com
-END-
The Employee Engagement Awards (EE Awards) is the first and only global, dedicated Employee Engagement Awards & conference business. We believe in inspiring and educating people to remake the way organisations think about, and engage, people to achieve their purpose.
That's why we created and continue to improve the Employee Engagement Awards; to provide a platform to recognise excellence in engagement that inspires action and drives the industry and the employee experience forward
Entering and hopefully winning, The EE Awards will provide you with industry acknowledgement and an important competitive advantage to attract the best talent.
About Maritz Motivation Solutions
Maritz Motivation Solutions has been a global leader in employee engagement for over 75 years. Our CultureNext solution empowers employees to transform their organizations into amazing places to work.
CultureNext provides organizations with flexible technology, tools, services and expansive rewards to help connect people worldwide to create a culture of engagement, passion and purpose. For more information, visit us at maritzmotivation.com/culturenext.
For more information on The Employee Engagement Awards:
Matt Manners
+ 1 (212) 380-1246
+44 (0) 7799876473
matt@ee-awards.com
www.ee-awards.com
#ee_awards
LinkedIn Group: The Employee Engagement Awards