Finalists include: Barclays, Clarins, E.ON, ODEON, Oracle, Nissan, Santander, Superdrug, Visa, Unicef
Winners will be announced at a ceremony at Twickenham Stadium on January 24, 2019
Tables are on sale now
Learn from finalists at the Employee Engagement Conference in London - April 16, 2019
London – November 08, 2018 – The 2018 UK & Europe Employee Engagement Awards, today announces its shortlist of finalists. These are the companies that the judges believe put the employee experience at the heart of their business.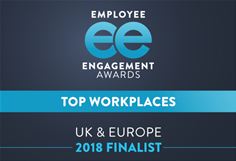 Employee Engagement Awards Top Workplaces UK & Europe 2018 Finalist
Founder Matt Manners said: "With a record number of entries this year, it shows that business leaders clearly value the difference that putting people at the heart of their organisations can make. Especially in areas such as Diversity and Inclusion, where diversity of thought can provide an instant competitive advantage if embraced."
The winners will be announced at the awards ceremony at Twickenham Stadium on January 24, 2019.
The EE Awards not only recognises great work but wants to inspire others to follow suit. It will host a one-day conference in London on April 16, 2019. This will profile the finalists and winners from a wide range of businesses and sectors. The conference will provide practical advice to help Engagement professionals achieve better employee engagement results. You can pre-register for Super Earlybird tickets here - https://uk.ee-awards.com/
The full 2018 UK & European shortlist is as follows:
1. The Employee Engagement Company of the Year
E.ON
Heathrow Airport
PKF Cooper Parry
Post Office
PPL
Shepherds Friendly Society
2. Culture & Purpose Award
Acceleration Partners
ADP
Away Resorts
Dragados UK
Natterbox
RB
Superdrug
Touchwood Shopping Centre
Viisi
Visa Europe
University of Lincoln
3. Innovation in Engagement Award
Aberdeen Standard Investments
Bayer AG
Caesars Entertainment
Clarins Group UK
Direct Line Group
Dreams
Nissan Europe
ODEON Cinemas Group
Paldis
RB
Santander UK
University of Lincoln
4. Diversity & Inclusion Award
AIB UK
Beyond
Capital One
NHS Business Services Authority
ODEON Cinemas Group
PPL
Tata Consultancy Services
5. Employee Benefits Award
Oracle
PKF Cooper Parry
Skyscanner
University of Lincoln
6. Internal Communications Award
Carnival UK
Dreams
HM Land Registry
Imagination Technologies
Merton Council
Ministry of Justice
Mitchells & Butlers
Mondi Group
Tata Consultancy Services
UST Global
Vanquis Bank
7. Employee Wellbeing Award
Aster Group
Gateshead College
Microgaming
NHS Business Services Authority
Oracle
PKF Cooper Parry
PPL
RBS
Smart DCC
Visa Europe
Vita Coco
8. Social Responsibility Award
Barclays
C&A + C&A Foundation
Caledonian Produce
Generali Country Italia
Microgaming
Touchwood
UST Global
9. Employee Engagement SMB Company of the Year (0 - 1000 employees)
ADP
Aker BP
First Utility
PKF Cooper Parry
10. Employee Engagement Non-Profit/Charity Project of the Year Award
11. Employee Engagement Public Sector Project of the Year Award
Bank of England
University of Lincoln
12. Unsung Hero Award
Anna Krzak – Ocado
Fionna Cannon - Audely Group
13. Best Use of Technology Award
Clarins Group UK
Heathrow
Nissan Europe
RBS
Tata Consultancy Services
Travelex
Unicef UK
University of Lincoln
William Hill
14. Employee Engagement Consultancy of the Year Award
Bright Innovation
H&H
Home
Inpulse
People Lab
Synergy Creative
15. Employee Engagement Vendor of the Year Award
Clear Review
From Babies with Love
Hive HR
StaffConnect
Xexec
Sponsorship
There are limited opportunities remaining for companies to sponsor the awards & conference. For more information please contact matt@ee-awards.com
-END-
The Employee Engagement Awards (EE Awards) is the first and only global, dedicated Employee Engagement Awards & conference business. We believe in inspiring and educating people to remake the way organisations think about, and engage, people to achieve their purpose.
That's why we created, and continue to improve, the Employee Engagement Awards; to provide a platform to recognise excellence in engagement that inspires action and drives the industry and the employee experience forward.
Entering and hopefully winning, The EE Awards will provide you with industry acknowledgement and an important competitive advantage to attract the best talent.
For more information on The Employee Engagement Awards:
Matt Manners
+44 (0)203 3711 877
+44 (0) 7799876473
matt@ee-awards.com
www.ee-awards.com
@ee_awards
LinkedIn Group: The Employee Engagement Awards