Nigel Rees has been appointed as Joint UK MD of Aareon (www.aareon.co.uk) and 1st Touch (www.1sttouch.com), a role he will share with current Aareon MD Steve Makin. In his new role, Rees will seek to exploit and drive the significant benefits available from the close collaboration between the two Aareon Group companies in the social housing technology marketplace.
Rees, who qualified as a Chartered Accountant with KPMG, joins from The Home Office, where for over 18 months as a Director of Finance, supported the digital transformation of the public sector. Prior to this, he worked for over 4 years as MD of Kelvin Connect a mobile and digital transformation solutions innovator with an impressive client list including Surrey Police. Previously, Rees also held a number of senior operational and financial roles in the retail and wholesale sectors.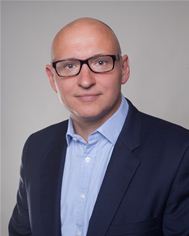 Nigel Rees is the new Joint UK MD of Aareon
Commenting on his appointment, Aareon's Steve Makin noted, "Nigel brings with him an unrivalled level of experience in Digital Transformation and Mobile technology at the highest level. The clarity of vision he has gained by working on digital transformation projects within the public sector is unrivalled and will certainly prove to be invaluable. And with the tremendous market success that we are currently enjoying, his appointment to our management team is extremely timely and I look forward to working closely with him."
Former 1st Touch MD Greg Johns, recently promoted to spearhead Group Product Strategy at the Aareon Group, welcomed Nigel Rees to the role, noting; "With 1st Touch increasingly becoming the digital development arm of the Aareon Group, the benefits of closer collaboration and fusion are clear. Nigel has exactly the right skill sets to spearhead this integration and I welcome him aboard."
For his part, Nigel Rees welcomed Steve and Greg's comments adding, "It's an incredibly exciting time to be joining. Both Aareon and 1st Touch are class leaders and with our excellent product pipeline and development investment, we are ideally placed to secure our position as the market leading vendor. I look forward to making a start and heading an extremely successful team of people who have an immense understanding of the market and our customers."
ends
Note to Editors:
About 1st Touch (www.1sttouch.com)
Southampton based 1st Touch, a subsidiary of Aareon AG (www.aareon.com), has enabled dozens of field workforce-based organisations to embrace new mobile technologies and so achieve significant savings, greater productivity and more cost-effective use of resources. 1st Touch Mobile delivers clear and unique benefits: These include the system's acclaimed 'Smart Airtime' feature where 'airtime' is minimised and the system is always available with or without 'airtime'. The system's flexibility through simple customer control over forms creation and amendment is also widely acclaimed. There is Integration to multiple back office and other enterprise software applications, so that data is entered only once.
With its widely acclaimed mobile technology, 1st Touch has a clear focus on the Social Housing and Local Government markets. Many social housing providers and local authorities, at large, now benefit from the fast and tangible, best of breed benefits that 1st Touch mobile technology delivers to the enterprise.
To date, over 50% of the social housing market, which has deployed mobile technology, has chosen to implement 1st Touch. In local government, 1st Touch has already been adopted for a wide range of mobile workforce uses. Ready to use applications for local authority organisations include: Public Buildings, Highways/Street Services, Environmental/Waste Management, Revenues and Benefits, together with Planning Control and Trading Standards.
1st Touch software is available on a wide variety of platforms including: Windows Mobile, Apple and Android.
About Aareon (www.aareon.com)
Aareon is the leading European Software Company providing IT solutions to the Social Housing Sector. With many years of industry specific knowledge, our position as a profitable, growing and innovative organisation enables us to set the standard for business processes in the housing sector both today and into the future.

The Aareon Product Suite provides housing providers with an enterprise-wide solution.

Aareon QL Housing, Aareon QL Financials, Aareon QL CRM, Aareon QL Asset Management, Aareon QL Personnel & Payroll, Aareon 1st Touch Mobile, Aareon 360, Aareon QL Reporting Service, Aareon QL Task Centre Alerts & EDRM.
For further information on 1st Touch please contact:
Emma Page
Aareon UK
02476 323723
Emma.Page@Aareon.com
www.aareon.co.uk
or
Leigh Richards
The Right Image PR & Marketing Group
07758 372527
leigh.richards@therightimage.co.uk
www.therightimage.co.uk