and offers free assessment of cloud application security to customers
High Wycombe, UK and HERZLIYA, Israel – 8 March 2016: Today's organizations are increasingly reliant upon SaaS and cloud applications to conduct their daily operations, from managing the sales funnel to contacting their customers. But these commercial applications also expose the organization to a myriad of threats, including:
Exfiltration of sensitive data such as customer records, sales prospects and personal data
Account/Identity theft
Compliance violations
FireLayers protects enterprise cloud applications by integrating context and risk factoring into security policies and triggering user-facing mitigations to prevent data breaches. FireLayers proactively identifies file sharing related actions, in real time, in any application. This includes homegrown applications running on Azure, AWS and Google Cloud, among other IaaS (infrastructure-as-a-service) customized applications and off-the-shelf SaaS tools like Box, Google Apps, Office 365 and ServiceNow.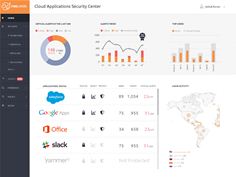 FireLayers GUI
The FireLayers Cloud Application Security Platform is the industry's first platform capable of providing organizations full control over popular cloud apps which they use to drive their business. With FireLayers, organizations have the security, visibility and control they need to make the move to the cloud and maximize the value of their cloud applications.
In appointing and welcoming activereach, Ofer Smadari, Firelayers VP of Global Sales & BD said, "We are impressed with activereach's expertise and track record and we are proud to be partnering with an organization that shows a clear understanding of the issues facing cloud users." FireLayers services are ideal and timely for UK enterprises that are considering moving to cloud-based applications.
Mike Revell, Managing Director at activereach comments:
"We are pleased to bring this solution to the UK market and anticipate strong interest from our customers that are embracing the cloud. Until now, CISOs were forced to choose between blocking or allowing cloud apps. Now, with FireLayers, they can define and enforce adaptive security policies to prevent data breaches of cloud apps like Google Apps, Office365, Salesforce, Dropbox and countless others. This service is a great addition to our cloud-based security solutions portfolio."
For a limited time only, activereach, in association with FireLayers, is offering free assessment of customers' cloud application security. Deployed within minutes, it delivers actionable insights regarding application security within days.
- ENDS -
FOR MORE INFORMATION PLEASE CONTACT:
Lorna Fimia, Marketing Manager, activereach Ltd
Email: lorna.fimia@activereach.net Tel: 0845 625 9025
NOTES TO EDITOR:
About FireLayers
FireLayers enables responsible cloud adoption, delivering the security, compliance and governance organizations can rely on to safely enable any user to use any device to access any cloud application. For additional information please visit www.firelayers.com
About activereach
activereach is a leading integrator of Internet, networking, voice and security solutions delivered through the cloud, managed services, software and appliances. For organizations faced with today's complex IT challenges, activereach provides a unique consultative approach with solutions based on best of breed products and services. activereach has helped hundreds of businesses across the UK, Europe & Middle East – ranging from FTSE 500 enterprises and financial institutions to retailers and SMEs – manage and secure their network infrastructures, voice & data communications and critical information assets. Operating across activeNETWORKS and activeDEFENCE technology divisions, activereach is headquartered near London, UK. For additional information please visit www.activereach.net