MEASAT and Newtec to deliver 4K Ultra High Definition Television (UHDTV) content via the new efficient transmission scheme DVB-S2X to the Marina Bay Sands Expo and Convention Center at CommunicAsia 2014
KUALA LUMPUR, Malaysia, and SINGAPORE, 10 June 2014 Newtec and MEASAT Satellite Systems Sdn. Bhd. ("MEASAT") are to deliver a world premiere at the CommunicAsia show (17-20 June 2014) with satellite transmission of 4K UHDTV video distributed using the new DVB-S2X transmission standard.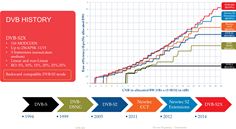 From DVB-S (black) to DVB-S2X (red) to be closer to the Shannon limit
The extensions to the DVB-S2 standard, a new specification developed by DVB including Newtec, called DVB-S2X, will be instrumental for the satellite industry to keep pace with demands for new features and increased efficiency. Published only in February 2014, DVB-S2X reaches efficiency gains over DVB-S2 of up to 51% for professional applications and up to 20% for DTH. This new standard is much needed as the growing consumption of video and data continues to squeeze bandwidth. The demonstration will be displayed in 4K UHDTV at CommunicAsia in Singapore at MEASAT's booth (Level 1 T3-01). The feed will be uplinked via MEASAT's teleport in Cyberjaya, Kuala Lumpur, and delivered live via MEASAT-3 satellite in C-Band, using Newtec's new DVB-S2X modulation equipment.
"Last year MEASAT demonstrated its capability to deliver 4K UHDTV over satellite. This year we continue our efforts to pioneer the early adoption of cutting edge technologies with a live demonstration of UHDTV over satellite using the new DVB-S2X standard," said Raj Malik, SVP - Sales and Marketing, MEASAT. "With DVB-S2X, MEASAT can support our broadcast customers with a more efficient and cost-effective use of our satellite capacity."
The new standard implemented on Newtec's product range, or as a software upgrade to existing products, brings multiple new capabilities on top of DVB-S2. These include lower Roll-Offs (RO), increased granularity in MODCOD choices, higher efficient modulation optimized for use in linear and non-linear operations, and a standard mechanism to bond carriers together, creating one big transmission pipe for multiple 4K programs over existing transponders.
"This demonstrates not only that satellite networks are ready for 4K UHDTV but also that DVB-S2X is ready to help satellite operators and broadcasters cut costs or deliver more content within the same capacity. It is no longer a question of whether the new DVB-S2X standard will be used in broadcast contribution and distribution networks, but rather a question of when," said Steven Soenens, VP Product and Market Management at Newtec.
Newtec's M6100 Broadcast Satellite Modulators will be used for the demonstration as well as Newtec's demodulators. Video processing capabilities at both ends of the link were provided by Ericsson through its AVP 2000 Contribution Encoders and RX8200 Advanced Modular Receivers.
"We are excited to be working with our Asian partner MEASAT on this world first which demonstrates a bright future for satellite contribution worldwide," concluded Mario Querner, VP Asia of Newtec.
Steven Soenens will also speak about the new standard at a presentation, titled "Satcom Industry in Transition! DVB-S2X Released and in Action. How to Migrate?" on Wednesday, June 18 at 2.35 pm as part of BroadcastAsia.
- ENDS - 
Your Contacts
Newtec
Kerstin Roost
Public Relations Director
Tel: +49 30 430 95 562
Kerstin.Roost@newtec.eu
CommunicAsia: Level 1P2-01
MEASAT
Shawna Felicia
Corporate Communications Manager
Tel: +60 3 821 321 88
Shawna@measat.com
CommunicAsia: Level 1 T3-01
Meet Ericsson at BroadcastAsiaon Level 4 at Lotus 4D/E: www.ericsson.com.
Additional Material
About Newtec
Newtec, www.newtec.eu, is specialized in designing, developing and manufacturing equipment and technologies for satellite communications. As a pioneer in the industry, Newtec is dedicated to creating new possibilities for the broadcast, IP trunking and backhauling, consumer and enterprise VSAT and government and defense markets. Our products and technologies can be applied in a wide range of single and multiservice applications from DTH broadcasting, video contribution and distribution and disaster recovery and backbones for cellular backhauling, to small and medium enterprises, SCADA networks, manned and unmanned aircrafts, border control and Morale, Welfare and Recreation (MWR).
For over 29 years, our dedicated team of specialists has set industry standards with the most efficient, scalable and economical technology solutions. New challenges and customer needs offer opportunities to explore new boundaries. This empowers us to work even harder, helping customers to perform their best so that, together, we can make the world a safer, more informed and connected place. As a result, more than 3 billion people watch TV every day thanks to Newtec technology.
Newtec is a European company founded in 1985. Through commercial offices in Sint-Niklaas (Belgium), Dubai (UAE), Singapore, Beijing (China), Sao Paulo (Brazil) and Stamford, CT (USA) as well as an extensive network of over 80 certified partners, Newtec can meet customer's needs worldwide.
About MEASAT
MEASAT is a premium supplier of satellite communication services to leading international broadcasters, Direct-To-Home (DTH) platforms and telecom operators. With capacity across five (5) communication satellites, the company provides satellite services to over 150 countries representing 80% of the world's population across Asia, Middle East, Africa, Europe and Australia.
The MEASAT fleet includes the state-of-the-art MEASAT-3 and MEASAT-3a satellites at 91.5°E supporting Asia's premium DTH and video distribution neighborhood; MEASAT-2 at 148.0°E; and, MEASAT-5 at 119.5°E. In Africa, the AFRICASAT-1a satellite at 46.0°E provides satellite capacity across the African continent with connectivity to Europe, the Middle East and South East Asia. The MEASAT fleet will be further strengthened with the addition of MEASAT-3b in September 2014 and MEASAT-3c in H2 2015.
Leveraging facilities at the MEASAT Teleport and Broadcast Centre, and working with a select group of world-class partners, MEASAT also provides a complete range of broadcast and telecommunications solutions. Services include 3D, high definition and standard definition video playout, video turnaround, co-location, uplinking, broadband and IP termination services.