A bespoke filtration solution jointly developed by major oil industry chemical supplier, Champion Technologies, together with 3M's Oil & Gas business, has significantly reduced the potential risk of blockage in a subsea chemical umbilical system recently installed in the North Sea.
The need to deliver chemicals through a 28km subsea umbilical system – many times typical umbilical length - led to a requirement for production chemicals to be filtered to an exact cleanliness level to minimize the risk of umbilical blockage. "The longer the tieback the more difficult & costly it is to pin-point and remove any source of obstruction," says Champion Technologies (UK) Ltd., Area Manager, John Reid. "Although there is nothing new about the use of subsea tiebacks, with an increasing percentage of the world's reserves being in deep water, longer and deeper tiebacks are inevitable and with them comes an increasing risk of umbilical blockage.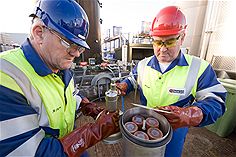 Champion Technologies teams with 3M
Resolving blockages can be an expensive and time consuming process. Most blockages require intervention by divers working from a diving support vessel so the costs can, at best, be hundreds of thousands of pounds and, at worst, depending on deferred production, literally millions of pounds. Proactive measures designed to prevent blockages from occurring in the first place are the key to maintaining effective chemical dosing regimes, addressing customer flow assurance issues and supporting the customer's production objectives.
To achieve this, production chemicals utilised to treat the system require filtration to an appropriate specification. The filtration process implemented for the operation was collectively developed by 3M working in close cooperation with Champion Technologies and the Operator of the subsea development. An extensive laboratory testing programme identified 3M BetaKlean filters as the most appropriate for the filtration process, providing optimum product filtration.
3M's Cuno Scientific Application Support Services (SASS) provided the laboratory testing services to support the development of a solution that was fit for purpose and agreeable to all parties. 3M also worked closely with Champion Technologies to modify their existing filtration processes to provide a bespoke solution that was fully compatible with the various types of chemicals their filtration equipment would come into contact with.
The filtration system has now been installed and commissioned; "despite the significant time pressures that can often be involved in a first-fill chemical process, the ease of use of the 3M filtration equipment was also a big help in meeting the delivery schedule" said Reid.
Ian Cairns, Key Account Manager for 3M Cuno Filtration and Oil and Gas UK, suggests that the key to success was collaboration between the 3M Aberdeen-based team and key Champion personnel to enable the development of a comprehensive solution for Champion's client.
"The increasing use of subsea tiebacks is not just a North Sea phenomenon but an international one, so with the global presence of 3M and Champion Technologies this development has considerable market potential for all." he suggests.
- ends –
Photo available, download link: http://www.box.net/shared/9ngolaj7d6
Cuno, BetaKlean and 3M are trademarks of 3M Company.
About 3M
3M is a $23 billion diversified technology company which, since 1902, has been creating innovative products that help make the world healthier, safer and more productive. Well known 3M brands include Scotch, Post-it, Scotchgard, Thinsulate and Scotch-Brite.
3M employs some 75,000 people worldwide and has operations in more than 65 countries. It produces tens of thousands of innovative products for customers in dozens of diverse markets and its 40+ technology platforms touch nearly every aspect of modern life. The company has applied its expertise in RFID (radio frequency identification) technology to map and locate underground utilities; it has used its understanding of the healthcare industry to develop innovations that help the early diagnosis of heart and lung conditions; and its range of pocket projectors are the ultimate presentation devices for business people on the go.
The UK and Ireland is home to one of the largest 3M subsidiaries outside the USA, employing more than 3,500 people across 17 locations, including 10 manufacturing sites. Products manufactured in the UK include coated abrasives, occupational health and environmental safety equipment, adhesive tapes, industrial microbiology products, drug delivery systems, high-performance coatings, secure documents and passport scanners.
3M's involvement in the Oil and Gas industry
For more than 50 years, 3M has been meeting the evolving needs of the Oil and Gas industry. Globally, the company supplies some 10,000 products that are used in all aspects of the industry, from exploration, production and refining through to transportation and retail.
In the UK, 3M's Oil and Gas business has a team of highly experienced specialists, based both in Aberdeen and at our head office in Bracknell, Berkshire. Their role is to focus on the specific requirements of our UK-based customers. However, while our presence is local, our resources are global. 3M employs some 6,500 researchers and, with laboratories in 35 countries, we have the means to meet the industry's toughest challenges.
3M Centre, Cain Road, Bracknell, Berkshire, RG12 8HT, United Kingdom.
Media contact:
John Farmer
Ambrose Communications
Tel + 44 (0) 1491 412944
UK mobile : 07831 407999
johnfarmer@ambrosecomms.co.uk