Leading brand strategy and insight agency Flamingo has produced a short report naming 10 brands, movements, concepts and trends that have driven current dominant cultural narratives over the past year and that have the potential to signify further uncertainty and disruption in the year to come. Themes highlighted were women's bodies and power, ethnic inclusivity and diversity, the rise of "brandlessness", the role of the media in breaking and reforming shared values; the rise of collective living arrangements; challenger banking; identity politics; and new mechanisms of selling via the increase of single product brands; all amid extraordinary levels of political, logistical and cultural uncertainty.
Says Flamingo CEO Desirée Lopez, "We live in a time of disruption; everything from our homes to our political institutions to the way we talk about sexual consent is seeing huge shifts, some of which inevitably leave us feeling somewhat uncertain. But we believe that disruption can be positive; it can help us to see the world more clearly, give rise to new movements and create alternatives to the norm."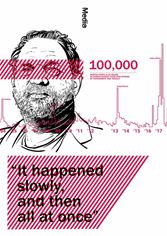 disruptors 2017
As regards inclusivity in fashion and beauty; new British Vogue editor Edward Enninful has vowed to change the industry "from the inside", starting with a diverse range of contributors and a mixed-race model on the cover of his debut issue. Meanwhile Rihanna's cosmetic brand Fenty Beauty and expanded 'nude' ranges from socially-conscious lingerie company Naja and luxury shoe designer Christian Louboutin all represent a push for greater inclusivity.
Similarly, Johanna Toruño's Unapologetically Brown series is attracting attention– at a time when discussion around Brexit, Trump's wall, the proposed ban on Muslim immigration to the US and #BlackLivesMatter are all bringing into question who we are and where we belong – and also, how we are represented and who constructs (or appropriates) that construction.
The world of FMCG brands is also transforming, not least by online retailer Brandless, which Fortune has described as "the next Procter & Gamble for millennials". Brandless sells products from food to household cleaners at a flat price of $3 and in homogenous, minimalist packaging. Elsewhere, mattress brand Casper, hosier Heist and body scrub producer Frank Body all adopted a similarly simplistic approach, with minimal products and straightforward sales messaging. In the banking sector, challenger Monzo and CYBG's Studio B explored crowdsourcing ideas from customers in order to drive product innovation.
The growing discrepancy between salaries and house prices is leading to a fundamental shift in our living arrangements. Just over 80,000 homes built exclusively for rental purposes are now either completed or planned across England, and in London, where the average cost of a house is 12 times the average annual salary, these build-to-rent developments are growing in popularity. Rental costs at these developments often include utility bills and communal spaces. Meanwhile in Saudi Arabia, plans for smart city NEOM -- a "future-facing metropolis" -- include driverless transport, high speed, free internet, and 100% renewable energy from solar and wind power.
The impact of the Harvey Weinstein scandal is hard to overlook; this is a true paradigm shift, bringing about a fundamental change to cultural assumptions about gender, sexuality and power, and a turning point in the role of media in the way populations form, break and remake their shared values.
Omnicom-owned, multiple award winner Flamingo is based in London's Bankside and has a global reach. It is one of the UK's largest and most respected insight agencies, operating at the intersection of people, brands and culture.
Launched in 1997, the company boasts ongoing clients such as adidas, Glossier, Ikea, Netflix, Chanel, Facebook, Diageo and Google. Flamingo carries out diagnostic activity with a peerless culture-led approach, assisting clients to understand and harness the culture they are part of in order to predict how trends will change and to ensure their continued relevance.
To obtain a copy of the report, or for more information, please contact
Milly Liechti, Senior Marketing & PR Executive, Flamingo
E: milly.liechti@flamingogroup.com
T: +44 203 790 0464
Website: http://www.flamingogroup.com