Report Discloses Big Risks for Desktop Applications and Need to Extend Patching to Non-Microsoft Applications
Maidenhead, UK – June 27, 2018 – Flexera, the company that's reimagining how software is bought, sold, managed and secured, today released Vulnerability Review 2018: Top Desktop Apps, part of the annual report series from Secunia Research at Flexera. This new edition focuses on heavily used desktop applications, which can be easily breached through the Internet. The report reveals the biggest risks, so IT can create a plan to prevent attacks – protecting systems and employees. It also serves as a guide for security patching, helping pinpoint what's most important and requires immediate action.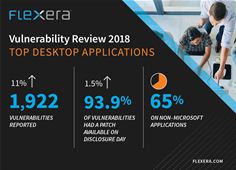 Vulnerability Review 2018 – Top Desktop Applications
"Companies are in desperate need to improve patching so they can reduce risk. Ultimately that means creating a smart process," said Kasper Lindgaard, Senior Director of Research and Security at Flexera. "To do that you have to cut through the noise -- not all software updates are security related, and not all security updates are equally critical. Having patching processes, supported by best-in-class technologies, gives you the visibility and intelligence you need to prioritise and act decisively."
Most Desktop App Vulnerabilities Pose Extreme Risk
The report reveals that security professionals need to pay close attention to desktop applications because most vulnerabilities found in these types of apps can be extremely dangerous. Whenever new vulnerabilities are reported, Secunia Research issues Advisories assessing their criticality, attack vector and solution status. They also create signatures and tested patches for easy configuration and deployment. This intelligence by Secunia Research allows desktop admins to quickly identify and prioritise critical security patches. Without such information, operation teams struggle to keep up with the large amount of patches.
In 2017, 83 percent of the Secunia Advisories covering the top desktop applications were rated "Extremely" or "Highly" critical (compared to only 17 percent when you look at Secunia Advisories across all software applications ranked). Moreover, desktop applications are extremely vulnerable to attack via the Internet, making them attractive targets. 94 percent of advisories relating to desktop apps could be exploited through the Internet, without any interaction with the user, or the need for them to take any action.
Microsoft's Automated Updates Aren't Enough
The report also cautions users who incorrectly believe that Microsoft's automated updates will shield them from vulnerability risk. In fact, the majority of desktop app vulnerabilities occur in non-Microsoft applications. 65 percent of the vulnerabilities reported in the 50 most common desktop applications were found in non-Microsoft apps. The report offers compelling evidence that to significantly reduce corporate risk, security teams must patch non-Microsoft and Microsoft applications.
"Organisations can improve security patching in just three steps," added Lindgaard. "First, arm desktop admins with security Key Performance Indicators to keep security patching a high priority. Second, create an inventory of desktop apps to make installing a patch easier. Finally, put prioritisation and sourcing patches on a schedule, so patches are consistently monitored and applied quickly."
The key takeaway? When armed with vulnerability intelligence, IT professionals can get ahead of security risks with patches for almost all vulnerabilities affecting the most common desktop applications. Flexera's latest report offers a great starting point to help IT teams rethink their patch management strategy.
###
Follow Flexera on…
About Flexera
Flexera is reimagining the way software is bought, sold, managed and secured. We view the software industry as a supply chain, and make the business of buying and selling software and technology asset data more profitable, secure, and effective. Our Monetisation and Security solutions help software sellers transform their business models, grow recurring revenues and minimise open source risk. Our Vulnerability and Software Asset Management (SAM) solutions strip waste and unpredictability out of procuring software, helping companies buy only the software and cloud services they need, manage what they have, and reduce compliance and security risk. Powering these solutions and the entire software supply chain, Flexera has built the world's largest and most comprehensive repository of market intelligence on technology assets. In business for 30+ years, our 1200+ employees are passionate about helping our 80,000+ customers generate millions in ROI every year. Visit us at www.flexera.com.
For more information, contact:
Vidushi Patel/ Nicola Males
Vanilla PR
prflexera@vanillapr.co.uk
+44 7958474632 / +447976652491
*All third-party trademarks are the property of their respective owners.