London, 19 November 2010 – Today is World Toilet Day! www.flushtracker.com has been launched by the World Toilet Organization, supported by Domestos, to help raise awareness of the day. Tap in your location and Flush Tracker will show you exactly what happens to your flush once it disappears down the toilet: track its exact position, speed and distance travelled as it navigates the length of Britain's sewage system.
When the novelty wears off seeing the little blue dot's progress from your home or workplace, check out pre-loaded flushes from such eminent postcodes as Buckingham Palace and 10 Downing Street; and global locations like the White House, The Taj Mahal and The Kremlin.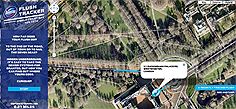 Flush Tracker from Buckingham Palace
You might be surprised! We have 360,000 miles of sewers in the UK (Source: BBC http://bbc.in/cGyFJv) and your flush can travel for many miles before it reaches its final resting place.
OK that's quite funny – but why should I care where my flush goes?
Domestos and the World Toilet Organization have mapped the participating countries' sewage systems to highlight the plight of communities who don't have access to clean, private, sanitised toilet facilities. That's something we take for granted at home, but more than 2.6 billion people – 40% of the world's population – lack access to basic sanitation. On a typical day, more than half the hospital beds in Sub-Saharan African are occupied by patients suffering from disease related to poor toilet sanitation, and diarrhoea remains one of the biggest killers of children under five worldwide. Access to a clean toilet can reduce this figure by 30%, hand-washing by 40%.
What about Domestos and the World Toilet Organization?
Domestos is a supporter of the World Toilet Organization and World Toilet Day, and is actively involved in building and improving toilets for people who don't have access to them across Asia, India and Africa.
World Toilet Day is in its 10th year. Its purpose is to highlight the problem faced by nearly half of the world's population due to lack of access to clean, private toilets and to spread the message about the essential role of clean toilets in safeguarding public health. Events are taking place in Australia, India, South Africa, America and here in the UK to mark the day on 19th November.
Track your flush at www.flushtracker.com
Find more information about the World Toilet Organization and World Toilet Day at www.worldtoilet.org/wtd.
Ends
Notes to editors
About the World Toilet Organization
World Toilet Organization (WTO) is a global non-profit organization committed to improving toilet and sanitation conditions worldwide. WTO is also one of the few organizations to focus on toilets instead of water, which receives more attention and resources under the common subject of sanitation. Founded in 2001 with 15 members, it now has 235 member organizations in 58 countries working towards eliminating the toilet taboo and delivering sustainable sanitation.
About Domestos
In the UK & Ireland, Domestos has provided families protection from harmful germs for seventy years & is now clearly established as the first name in home hygiene. That's because Domestos has the lasting power to eradicate all known germs.
From its original incarnation as liquid bleach, the brand has been extended and developed to offer a variety of products and fresh fragrances.