07 February – IP EXPO, Europe's number one enterprise IT event series, today announced Robert Hannigan, former GCHQ Director and the man credited with drawing up the UK's first Cyber Security Strategy, as this year's opening keynote speaker. Speaking on day one, Hannigan will be followed by one of the UK's best known mathematicians Dr Hannah Fry on day 2.
Hannigan, who spent several years as Director of GCHQ, is credited with the development of the UK's first Cyber Security Strategy and setting up the National Cyber Security Centre. During IP EXPO Manchester, happening 25-26 April 2018, he will be bringing his wealth of experience and insider knowledge of national cyber security to help businesses shape up.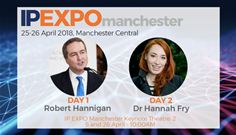 IP EXPO Manchester Keynote Speakers
Whilst Hannigan focuses on cyber risk, Dr Hannah Fry will be delving into data and analytics. Fry - who's probably best known for her work on a range of BBC documentaries and her long running BBC Radio 4 podcast, The Curious Cases of Rutherford and Fry - will be showcasing her mathematical expertise to illustrate patterns in human behaviour across a wide range of social problems and questions, from shopping and transport to urban crime, riots and terrorism.
"From the smallest start-ups to government departments and the world's biggest businesses, cyber security is high on the agenda for all organisations right now and has been noted time and again as one of the biggest societal risks for 2018" comments Bradley Maule-ffinch, EMEA Portfolio Director at IP EXPO Event Series. "At the same time technology is moving our world forward at an incredible rate. By focusing on not only the technological measures of cyber security but also human behaviours, our two keynote speakers will provide a far more holistic understanding of modern business risks."
Maule-ffinch continues: "Across the IP EXPO event series we want to provide attendees with access to world class experts, individuals who are shaping our view and understanding of technology as we know it. We're delighted to welcome both Robert Hannigan and Dr Hannah Fry to IP EXPO Manchester to share their incredible experience and knowledge in their respective fields with this year's attendees."
Along with Hannigan and Fry, IP EXPO Manchester will play host to over 100 inspiring and educational speakers from across the technology spectrum. Attendees will also have access to over 100 exhibitors as part of the free to attend event at Manchester Central.
For further information and to register for free for IP EXPO Manchester 2018, please visit: www.ipexpomanchester.com. Get involved on Twitter using the #IPEXPOManchester hashtag.
About IP EXPO Manchester
IP EXPO Manchester is part of Europe's number one enterprise IT event series, IP EXPO. The event series also includes IP EXPO Europe in London and IP EXPO Nordic in Stockholm. Launched by organisers Imago Techmedia in 2015, the event now encompasses six events under one roof including Cloud & IoT, Cyber Security, Networks and Infrastructure, Data & Analytics, DevOps and the new topic of AI. Designed for those looking to find out how the latest IT innovations can drive and support their business and transition to a digital future.
The events showcase brand new exclusive content and senior level insights from across the industry, as well as unveiling the latest developments in IT. It covers everything you need to run a successful enterprise or organisation.
Media contacts:
Gemma Smith / Marnie Spicer
020 3176 4700
ipexpomanchester@kaizo.co.uk
Speaker or exhibitor enquiries:
Inge Jacobsen / Marek Szajner
0203 841 8500