Company also reveals that it has signed up over 70,000 mobile payments merchants to date
November 1, 2012 -- Mobile payments company Fortumo, who has so far provided an industry-leading in-app payments solution for Android and web app developers, launches in-app payments for Windows 8 apps today. Fortumo is the first mobile payments company to announce its support for Windows 8.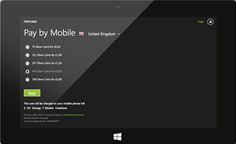 Fortumo Mobile Payments for Windows 8
"With the launch of Windows 8, developers now have an additional platform on which to build and distribute their applications. We will be helping them to develop new revenue streams from the get-go," says Rain Rannu, co-founder of Fortumo. "With mobile operator billing in 80 countries, Fortumo can provide seamless payment experience for Windows users without a need to register or have a credit card."
The company also reveals that it has signed up over 70,000 mobile payments merchants to date, originating from over 150 countries. Most popular categories for mobile payments are online and mobile games, apps and virtual goods, with other forms of digital content, such as books, music and videos, catching up quickly.
Fortumo's system works via mobile operator billing, wherein customers pay for digital goods via their mobile operator bill. Mobile operator billing is a strong alternative to credit cards, especially in the emerging markets. Fortumo has payment connectivity to over 250 mobile operators in 80 countries, including a number of exclusive direct carrier billing partnerships. Mobile operator billing is available for over 4 billion mobile users worldwide.
The new product enables developers to add mobile payments to any Windows 8 app, including Windows Store apps running on Windows RT and Microsoft Surface tablets. Fortumo's in-app purchasing for Windows 8:
works in almost 80 countries;

supports payments for single items, virtual currencies and non-consumable items;

has built-in volume discounts and all the other features that game and app developers on other platforms have grown used to;

is localized into 32 languages;

supports over 45 different currencies;

features Windows 8 Modern design, popularly known as Metro UI.
More info and integration guidelines are available at: http://fortumo.com/windows8
Fortumo, founded in 2007, has offices in Estonia, Europe; San Francisco, US and Beijing, China. More info at: http://fortumo.com