Fred.Olsen Renewables, with the help of Natural Power, SeaRoc and ZX Lidars, has raised a total of £16,078 for the Marine Conservation Society, Scottish Mountain Rescue and Mountain Rescue England and Wales by completing the Three Peaks Challenge.
A team made up of 27 employees from all four companies took park in the challenge scaling Ben Nevis in Scotland, Scafell Pike in England, and Snowdon in Wales.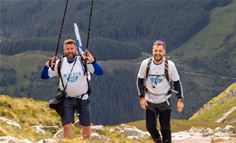 Euan Fenelon and Finley Becks-Phelps
Finley Becks-Phelps, development manager at Fred.Olsen Renewables, said: "Originally, it was just an idea for Fred.Olsen Renewables to do the challenge as a team building exercise, but then we opened it up to the other companies and got a really positive response. We picked three charities we felt really strongly about.
He continued: "The Marine Conservation Society does fantastic work protecting our seas, and without the Scottish Mountain Rescue and Mountain Rescue England and Wales people like us couldn't do challenges like this.
"We set a target of £10,000, and we smashed it! We held cake sales in Stirling; at The Greenhouse, which is Natural Power's head office in Dumfries and Galloway; and in Newcastle, to help raise money, and everyone paid their own way to make sure every penny raised went to the charities.
"On the day, everyone braved the climb despite the weather conditions, and we all managed to complete the challenge. People came from London, Oslo, and other parts of the UK and Norway to take part. It was a real team effort."
Euan Fenelon, director of operations and asset management at Natural Power, said: "It was wonderful to see everyone from the different organisations come together to do the Three Peaks Challenge, especially those that travelled from overseas to take part! It was a fantastic opportunity for us to get involved in a wonderful team activity, support our clients and raise money for three fantastic charities."
Graham Howe, sales manager at SeaRoc, added: "SeaRoc was proud to join the Fred.Olsen Renewables team for a memorable lifetime experience that benefited three great charities."
After the event Kev Mitchell, vice-chair at Scottish Mountain Rescue commented: "We are hugely grateful to Fred.Olsen Renewables for completing their Three Peaks Challenge to raise funds for Scottish Mountain Rescue. We depend on donations to maintain our world class rescue service and support our 24 member-teams to locate, assist and save the lives of people who are lost, injured, missing or otherwise in need of help any hour, any day and any weather. Thank you to everyone at Fred.Olsen Renewables."
ENDS
About Fred.Olsen Renewables
Fred.Olsen Renewables (FOR) is a wholly owned subsidiary of Bonheur ASA and is responsible for the group's renewable energy activities. FOR's main focus is onshore wind power and the first investment was made back in 1996.
The business operates in all parts of the energy value chain, from sourcing windfarm acreage to sale of electricity in the global market, developing renewable energy production in UK, Germany, France and Scandinavia. https://fredolsenrenewables.com/
About Natural Power
Natural Power is an independent consultancy and service provider that supports a global client base in the effective delivery of a wide range of renewable projects including onshore wind, solar, renewable heat, energy storage and offshore technologies. It has a global reach, employing more than 365 staff across 11 international offices. Its experience extends across all phases of the project lifecycle from initial feasibility, through construction to operations and throughout all stages of the transaction cycle. www.naturalpower.com
About SeaRoc
Formed in 2002, SeaRoc Group has more than a decade of experience in offshore renewable energy. It has an extensive worldwide project portfolio, adopting a full lifecycle approach to projects from design, through construction and into decommissioning, specialising in HSEQ support and GIS data management services. https://www.searoc.com/
ZX Lidars
ZX Lidars (formerly ZephIR Lidar) provides hub height and turbine mounted wind measurements for wind energy and meteorological applications onshore and offshore https://www.zxlidars.com/
Contact details:
Jane Maher
PR and Media
Natural Power
T: 07887 995 589
E: janem@naturalpower.com