FARNBOROUGH – 29 April 2016 – Datum Datacentres is delighted to announce that specialist IT consultancy Freestyle IT has joined the Datum community of IT service providers housing critical infrastructure in Datum Farnborough.
Operating out of Hook in Hampshire, Freestyle IT are a consultancy led IT business specialising in the design, supply, installation and support of Virtual Infrastructure Solutions for customers across a wide range of sectors including Financial Services, SMB, Corporate, Education, Media and Public Sectors. Freestyle IT was formed in 2002, initially as an IT reseller and then, building on their strong reputation for reliability and excellence of service, moving into providing professional services to enhance the partnerships they had built with both customers and key vendors.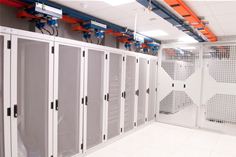 Datum Racks
Originally co-located at the SSE data centre in Fareham which sold to SCC in 2014, Freestyle IT found itself having to accept new terms which were not aligned to their business. In November 2015, the new terms prompted an urgent search for a new provider who could meet their exacting demands for quality in terms of the facility itself, high levels of resilience, and excellent connectivity.
Speaking about the selection process, Warwick Everett, co-owner/founder of Freestyle IT comments: "We started our search by speaking to our contacts and partners in the business and undertaking a search of suitable facilities. We had a clear idea about what we needed to support our business and our customers and using specific criteria, we drew up a shortlist of potential providers. As a specialist consultancy, we focus on ensuring everything we do has a positive impact on the business success of our customers and it was important that we found a partner who could share our consultative approach. When we met with Datum we were impressed by the facility, its secure location, the attitude of the team and the possibilities offered through the Datum Connect ecosystem of enterprises and providers. Our decision to select Datum paid off as everyone worked with us to ensure that we achieved our goal of being up and running in less than a month, complete with IT transit and IT ranges."
Matt McCluney, Account Director at Datum Datacentres, adds: "Datum is delighted to be working with Freestyle IT to support their successful business to further develop. Datum's secure and resilient facility resonates with service providers who are charged with supporting clients' solutions and critical infrastructure. Excellent carrier and cloud neutral connectivity and environmentally efficient cooling help to ensure providers can better support client needs with flexible solutions and manageable costs."
About Freestyle IT
Freestyle IT has been providing IT services and solutions since 2002. This experience allows us to provide a consultative approach to all our customers, in everything we do. During this time we have acquired an understanding of the diverse needs and requirements of a wide range of customers, including those from the Financial, SMB, Corporate, Education, Media and Public Sectors.
For more information on Freestyle IT, visit www.freestyle-it.co.uk
About Datum Datacentres
Datum provides leading-edge carrier and cloud neutral co-location data centres to enterprises and service providers. As part of the Attenda IT Services group, delivering always-on availability, robust security and enterprise class service is hard wired into our operations. Our data centres are trusted as secure environments for content, data and business critical IT to connect with a neutral choice of networks and cloud service providers.
Datum FRN1 has capacity for more than 1,000 co-location racks within a high security campus in Farnborough, which is fast developing as a strategic London-edge data centre hub. The facility incorporates a pressurised free-air cooling design that delivers enhanced environmental efficiencies and supports high density computing to 30kW per rack as standard. Always on availability is supported by resilience in both design and operations underwritten by a 100% uptime SLA with helpdesk and remote hands services which are available 24x365.
Press Contact:
Lexie Gower
T: 0845 5680123
E: lexie.gower@datum.co.uk