OKI Europe launches light, small-footprint device that opens up new garment and product decoration opportunities with low-cost white toner technology
Egham, 9th May 2017 OKI Europe Ltd unveils the next-generation white toner graphic arts printer, full of commercial potential and specifically designed to enable a rapid response to today's changing market demands, at their stand at FESPA 2017 (B5-A52), 8th – 12th May, Hamburg, Germany.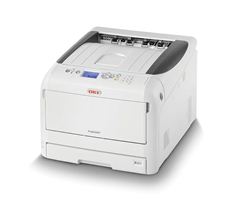 OKI's Pro8432WT next generation A3 white toner printer
OKI's Pro8432WT next generation A3 white toner printer, boasts the smallest footprint compact design without compromise, offering unrivalled functionality and specification where it counts. As well as performance, OKI has also reduced the real terms cost of white toner printing and included an incredible 2 additional white toner cartridges in the box, shipping with the equivalent of 13,000 white pages! The Pro8432WT is supplied with enough toner as standard to easily make the profit to cover the capital costs, providing a compelling 'RoI' opportunity, ideal for print houses, graphic arts organisations and other businesses serious about high-quality decoration on everything from garments to trophies and signs. The Pro8432WT is big on quality with fantastic white opacity and designed to print on all relevant transfer media.
"The Pro8432WT is designed to fit any print shop or design studio where space is at a premium, as a fast-turnaround, short run alternative to silk screen and other decorative methods. Thanks to its fast and easy set-up, it also provides an accelerated route to new revenue streams for high street print shops and businesses or organisations majoring in light production printing," explains Lee Webster, General Manager, Product Marketing, OKI Europe Ltd.
Printing with white toner, the Pro8432WT can produce full colour transfers which are already weeded and ready to decorate substrates of any colour. Self-weeding capability removes the time-consuming, multi-step processes previously required when decorating coloured garments and products with traditional methods. Manufactured to be compatible with all the major transfer media brands the Pro8432WT offers access to new, high-value revenue streams. Combined with the flexibility of the latest low temperature transfer media to decorate virtually any substrate from cotton and man-made synthetic fabrics, to metal, glass, acrylic and even wood! With new light single step transfer media the strong opacity of white toner permits lighter colour garment decoration in a single step process for superfast, cost effective production. The innovative transfer system is fast, easy and set up costs are substantially lower than other digital printing techniques such as direct-to-garment, and overcomes the limitations of sublimation white only polyester blank decoration.
The Pro8432WT design is optimised for transfer media printing using speciality fuser and toner technology which deliver strong white opacity and vivid colours which last in the wash.
"The Pro8432WT excels at answering many of the challenges facing today's industry, delivering innovation, significant ROI and real versatility in a small-footprint device," added Webster.
About the Pro8432WT
Colour speed: Up to 35ppm
Resolution: 1200x600dpi
Processor speed: 800MHz
Paper input: MPT 100 sheets; First tray 300
Memory: Standard RAM: 256MB; Maximum RAM: 768MB Optional SDHC Memory Card4: 16GB
Network: 10/100/1000 Base Ethernet, Optional wireless LAN
Weight: 37kg
Dimensions (HxWxD): 360 x 449 x 552mm
Max paper weight: 220gsm Tray, 256gsm MPT
Toner Cartridge Yield (colour/white): 10,000/4,500 pages
-End-
Notes to Editors:
About OKI Europe
OKI Europe Ltd is a division of OKI Data Corporation, a global business-to-business brand dedicated to creating cost effective, professional in-house printers, applications and services which are designed to increase the efficiency of today's and tomorrow's businesses.
The company is well-established as one of Europe's leading printer brands, in terms of value and units shipped. For over 60 years OKI Europe has been delivering advanced printing solutions worldwide, introducing ground-breaking technologies that support the needs of businesses large and small. Our pioneering development of digital LED printing technology has placed OKI at the forefront of the market in delivering high-definition, eco-friendly printing devices.
Since the acquisition of the globally-deployed wide format printer business of Seiko I Infotech Inc. a subsidiary of Seiko Instruments Inc. OKI distributes precision-engineered wide-format printing systems specifically for the sign, graphics, CAD and GIS markets that provide industry-leading productivity and image quality. With an EMEA wide network of authorised distributors and dealers OKI Europe Ltd provides complete printing solutions including wide format printers, inks, media, software, installation, support, knowledge and training.
In addition to a vast portfolio of award-winning printers and MFPs, OKI offers a range of services to help optimise print and document workflows. This, together with an integrated suite of software technologies and tools, can help businesses take control of their print and document costs in a secure environment, whether office based, mobile or in the cloud.
Today OKI Europe employs over 500 staff in 21 locations (sales offices and production sites) and is represented in 60 countries throughout the EMEA region.
OKI Data Corporation is a subsidiary of Tokyo-based Oki Electric Industry Co. Ltd., established in 1881 and Japan's first telecommunications manufacturer.
Visit www.oki.com/eu for further information.
OKI Europe Ltd: Pamela Ghosal: Pamela.Ghosal@okieurope.com, + 44 (0) 208 2192190
Whiteoaks: Rebecca Bushnell: rebeccab@whiteoaks.co.uk +44 (0) 1252 727313