180 delegates from 28 countries worldwide attended Europe's largest Annual Spectrum Summit, hosted by LS telcom in conjunction with PolicyTracker in Lichtenau / Baden
Lichtenau/Baden, Germany – "Future of Broadband – Beyond Consumer Broadband" was the theme of the 23rd Annual Spectrum Summit concluding yesterday at LS telcom's headquarters in Lichtenau/Baden Württemberg, Germany. The conference featured presentations and panel discussions on 5G services, new use cases and spectrum requirements for vertical markets, as well as the future of radio broadcasting in the light of 5G. The event attracted representatives and thought leaders from regulatory authorities, mobile and broadcast operators, spectrum consultants, research institutes, industries and industry associations.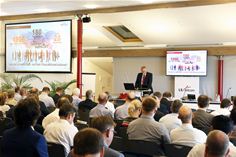 Annual Spectrum Summit 2018
Presenters and participants of the different panels set out their vision on 5G. It became clear from the day's presentations and subsequent discussions that 5G has the potential to go far beyond serving consumer broadband. New market opportunities and completely new business models are being driven by 5G, in particular for industry verticals, such as manufacturing industries, healthcare and transport.
"Ultra reliability, low latency and massive connectivity together with other technology developments will enable solutions for individual use cases. The question is to what extent operators are willing to slice up their capacity to deliver these services and whether individual users have to provide and operate their own 5G networks," said Martin Sims, Managing Director, PolicyTracker.
Panelists agreed that new approaches are necessary and that existing business models have to be completely rethought. Saul Friedner, Associate Director, Spectrum Services at LS telcom, summarized, "While new and more varied licensing and authorization regimes have to be introduced to allow industry verticals access to spectrum, industry will at the same time have to manage the spectrum much more efficiently, as usage is becoming increasingly complex."
Radio broadcasting is facing turbulent times as broadcasters struggle to develop viable business plans in an increasingly digital and streaming led world. Richard Womersley, Director of Spectrum Services for LS telcom opines, "With streaming services such as Spotify and increasingly available mobile broadband capabilities, the way in which people consume music is changing. FM broadcasting continues to lead digital platforms, including DAB, but this will change and radio broadcasters will need to innovate and adapt to maintain their relevance."
Mark Rider, Business Solutions Architect at Ofcom UK, commented, "This is my 12th time attending the annual Spectrum Summit. The Summit has an excellent line-up of speakers and experts from around the world. The diverse agenda provides great theoretical and practical insight of current developments within the sector. The Spectrum Summit is a must-attend event for anyone who wants to stay informed about latest trends in the industry."
Roland Götz, board member of LS telcom AG, concluded, "We were able yet again this year to attract a wide range of expert speakers to the 23rd Spectrum Summit. In addition to regulatory and media authorities, telecom institutions and operators, we had experts from an even wider range of industrial companies; such as AirFrance, Bosch and the SNCF Group, as well as AGURRE, the association representing industrial radio users. This demonstrates that the Spectrum Summit is well-known and well-respected, but also that 5G is a top priority on the agenda of industry verticals that are ready to take things forward."
Ends
For further information about the event: http://www.spectrum-summit.com/
Annual Spectrum Summit
For over twenty years, LS telcom, the worldwide market leader in spectrum management and radio monitoring, organizes the Annual Spectrum Summit. The event unites a growing number of radio technology experts from the regulatory, industry, broadcasting and military sectors, as well as research institutes and industry associations, to present and debate hot topics in spectrum management and radio monitoring, broadcast, mobile, and critical communications.
The Spectrum Summit, the UserGroup - a forum for LS telcom system and software users – which precedes the Summit, and several post-conference workshops add up to a full week of events. For the last three years, LS telcom has organized the Spectrum Summit Day in conjunction with PolicyTracker.
About LS telcom
LS telcom is the global leader in spectrum efficiency. In an increasingly connected world, we assure that all spectrum users achieve their radio communication objectives in the most optimal and cost-efficient way. We deliver technologies and services to national and international regulatory bodies, to mobile and broadcast operators, to transport, critical infrastructure, defence, PPDR and vertical markets. We optimize spectrum management and spectrum use and enable new business models based on 5G and the internet of things (IoT). Spectrum users in all markets rely on our experts and software for the planning and design of optimized radio networks. We plan networks of all generations and technologies, including IoT.
On the regulatory side, we supply consulting and support services for spectrum policy development, pricing, auctions, trading, dynamic and licensed spectrum access covering technical, economic and social aspects.
Our highly modern SPECTRA Enterprise IT system provides regulators with fully automated workflow-based e-government capabilities in spectrum management. Combined with our flexible radio monitoring system, it is one of the most advanced systems for spectrum inventory and data mining, enabling the highest spectrum efficiency.
Training on network technologies, standards, and regulations as well as radio monitoring system integration and optimization, transmitter installations and measurements complete our offer. Founded in 1992, LS telcom looks forwards from 25 years of experience in the radio communications market. LS telcom is an ISO 9001:2015 certified company and has established memberships with many industry associations and organizations, and cooperates with leading technology universities. This is how we ensure we remain up-to-date with technologies, standards and regulations.
LS telcom operates worldwide with subsidiaries and affiliates in Canada, China, France, South Africa, UAE, UK and USA as well as representations and support offices in Argentina, Hungary and Oman. With its headquarters in Lichtenau, Germany, LS telcom has been listed on the German stock exchange under ISIN DE 0005754402 since 2001.
Contact:
LS telcom
Christiane Labitzke
Marketing & Communications Manager
Email: clabitzke@lstelcom.com
Tel: +49 (0)7227 95 35 296 (Germany)
Tel: + 33 (0)1 84 79 41 95 (France)
www.LStelcom.com