As of today, stock of the recently launched G-Technology G‐RAID Thunderbolt drive is available in UK stores. The G-RAID Thunderbolt is available in capacities of 8, 6 and 4TB.
Aimed at the professional AV creative market, the G‐RAID with Thunderbolt drive delivers blazing speeds, as well as massive capacity, transforming Thunderbolt‐enabled laptops and desktops into full‐fledged video editing workstations. With this speed, it can transfer a full‐length, high‐definition, internet‐ready H.264 movie in less than a minute.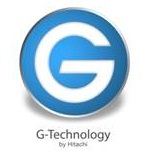 G-Technology logo
By incorporating 10 gigabit per second (Gbps) Thunderbolt technology by Intel® and two 4TB, 7200 RPM Deskstar™ hard drives, the G-RAID with Thunderbolt sets a new capacity and performance standard for RAID storage. It features two Thunderbolt ports, enabling the connection of up to six Thunderbolt peripherals such as additional G‐RAID drives, high‐resolution displays and professional video capture devices. It also delivers up to 280MB/sec sustained throughput to handle multi‐stream compressed HD workflows, including REDCODE, DVCPro HD, XDCAM HD and ProRes 422.
Building on G‐Technology's AV storage experience, and the capabilities of Intel's Thunderbolt technology, highlights of the new G‐RAID with Thunderbolt family include:
Ultra high performance with up to 280MB/sec sustained throughput
Two‐drive, RAID 0 designed specifically for professional content creation applications
Supports multi‐stream HDV, DVCPro HD, XDCAM HD, ProRes 422 and uncompressed SD workflows
Dual Thunderbolt ports for daisy chaining up to six Thunderbolt‐compatible peripherals
Time Machine® ready, plug‐and‐play setup on Mac OS
8TB, 6TB and 4TB capacities
Two, high‐speed 7,200 RPM Deskstar hard drives
Solid all‐aluminum case for ultimate durability
Kensington® Lock slot for security
Smart‐cooling fan technology for cool, quiet operation
Three‐year limited factory warranty
G‐Technology's new G‐RAID with Thunderbolt drive family is now available nationwide in Apple and Jigsaw stores. The manufacturer's suggested retail price for the 8TB drive is £769.99, 6TB is £654.99 and 4TB is £539.99.
Further details and customer testimonials can be found here.
Stay connected with G-Technology:
G-Technology drives are engineered specifically to meet the needs of the content creation and Apple Mac communities, including heavy users of multimedia content, Final Cut Pro® digital audio/video specialists and other pre/post production professionals. From rugged portable drives to ultra-fast, multi-drive RAID storage, G-Technology's USB, FireWire, eSATA, and SAS storage solutions support virtually all levels of A/V production and can be found in post-production facilities worldwide.
Facebook: G-Technology Europe
Twitter: @GTechEurope
YouTube: GTechStorage
Flickr: G-Technology
About HGST
HGST (formerly known as Hitachi Global Storage Technologies or Hitachi GST), a Western Digital company, develops advanced hard disk drives, enterprise-class solid state drives, innovative external storage solutions and services used to store, preserve and manage the world's most valued data. Founded by the pioneers of hard drives, HGST provides high-value storage for a broad range of market segments, including Enterprise, Desktop, Mobile Computing, Consumer Electronics and Personal Storage. HGST was established in 2003 and maintains its U.S. headquarters in San Jose, California. For more information, please visit the company's website at http://www.hgst.com/.
One GB is equal to one billion bytes and one TB equals 1,000 GB (one trillion bytes). Actual capacity will vary depending on operating environment and formatting.
G‐Technology external hard drives serve as an element of an overall backup strategy. It is recommended that users keep two or more copies of their most important files backed up or stored on separate devices or online services.
G‐Technology, G‐RAID and Deskstar are trademarks of HGST, a Western Digital company. Western Digital, WD, and the WD logo are registered trademarks of Western Digital Technologies, Inc. Hitachi trademarks are authorised for use in countries and jurisdictions in which Hitachi has the right to market the brands. Hitachi is not liable for third parties' unauthorised use of Hitachi trademarks.
Thunderbolt and the Thunderbolt logo are trademarks of Intel Corporation in the U.S. and/or other countries.
Contact:
Keira Anderson
Porter Novelli
Cell: +44 020 7853 2311
keira.anderson@porternovelli.com