As many as fifty per cent of the UK's garden centres could be in serious trouble this time next year if they don't up their game and make the most of the spring trade, according to BBC2's The Fixer retail expert Karl McKeever.
McKeever, who is a retail consultant for the likes of M&S and Sainsbury's, was last night shown to help save Oak Garden Centre in Chatteris alongside the Hotel Inspector Alex Polizzi. He thinks that the plight of this garden centre is what awaits others in the UK if they don't offer customers a better shopping experience, improve their selling environments, offer better shopper entertainment and provide more seasonal display inspiration of what to buy.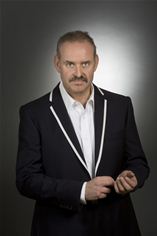 Karl McKeever
"Many are already on their knees from our last drenched summer and our failing economy, and they will not survive another summer, where the economy at the very least will be miserable. And with big stores like Waitrose just announcing plans to take a big bite out of the sector, this is no time for complacency," claims McKeever.
To help, he has drawn up a five-point survival plan:
1. Reflect the season in your layout.
Plan ahead of the seasons – e.g. focus selling activities on what most gardeners will need next i.e. stocking spring bulbs in the autumn ready for Easter flowering.
2. Capitalise on impulse purchases and seasonal events.
Create small, focussed 'hot spot' displays for impulse purchases. Suggest advice in the display theme to create an expert feel, such as 'bringing your pond to life'.
3. Create strong product categories and department themes.
Group all relevant products together in a 'destination area'. This shows specialist knowledge and will encourage customers to buy more in themed ranges, as opposed to single items.
4. Target customer service effectively
Passive features should include clear signage and detailed product information. When organising the area, just ask 'what would a customer need here?'.
Active features should comprise help desks away from tills, protection plans, landscaping services, flower arranging, home delivery and knowledge-sharing gardeners' clubs.
5. Great retail standards.
Premium standards give customers the confidence to buy. Keep the garden centre tidy, safe and easy to shop. Amenities such as the café and toilets should be inviting and clean.
For information on Karl McKeever and his company's work visit www.visualthinking.co.uk.