Comic Cat to appear in Facebook hit for Thanksgiving
(Manchester UK, 20th November 2013) – A universal truth: Where there's food, there's Garfield. So it is fitting that he and his pals will pay a visit to the hit Facebook game Gourmet Ranch - and just in time for a Thanksgiving Day feast.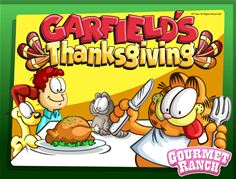 Garfield's Thanksgiving on Gourmet Ranch
Beginning November 21st, Garfield, the well-fed orange tabby, and his pals, Odie, the dim-witted dog, Nermal, the annoyingly cute kitten, and Pooky, Garfield's trusted teddy bear, will be hanging out at the Ranch for a two week stay (or until the food runs out!). In Gourmet Ranch, installed over 15 million times on Facebook, players cook delicious gourmet dishes in their very own café with a farm to table approach: Using home grown organic crops and animals to either serve hungry diners or trade for cash with friends.
Players will be able to grow a multitude of Garfield-themed ingredients such as Garfield Turkey, Odie Cow, Jon Cinnamon and Pooky Chicken which will go into recipes including Maple Glazed Pumpkin Pie and a Garfield favourite — Thanksgiving Lasagna! Garfield, Odie, Nermal and Pooky décor will also be available and if players complete the Thanksgiving quest they will win a Garfield trophy.
Jim Davis, creator of Garfield said: "Garfield and Gourmet Ranch are a match made in culinary heaven. There's surely nowhere better for Garfield to enjoy, or should I say "pig out", on a Thanksgiving Day meal that includes delicious gourmet dishes. I'm a bit concerned though. They may never get him to leave!"
Garfield himself said: "Stand back, Gourmet Ranch! I'm coming for Thanksgiving, and I plan to eat every turkey, pumpkin and cranberry you put in front of me."
Playdemic's CEO Paul Gouge added: "We know that lots of our players are Garfield fans and we think it's a real coup to get everyone's favourite fat cat to visit Gourmet Ranch. We just hope he doesn't eat us out of house and home!"
The collaboration between Playdemic and Garfield was facilitated by the licensing company Iconicfuture.
-ENDS-
You can find out more about Gourmet Ranch from the Playdemic website at www.playdemic.com, or alternatively check out:
Gourmet Ranch Facebook game: http://apps.facebook.com/gourmetranch
Gourmet Ranch Facebook Fan page: https://www.facebook.com/GourmetRanch
Download press pack images: http://www.playdemic.com/blog/?attachment_id=137
Gourmet Ranch Trailer: http://www.youtube.com/watch?v=MlVpOc1cpRA
About Playdemic
Playdemic is one of Europe's leading social games companies. Employing 65 staff at their Manchester UK studio, their vision is to create innovative, meaningful cross-platform social games with high production values, that deliver a uniquely social, incredibly fun and shared experience for our players. Playdemic is owned and run by a team of highly experienced Game Industry professionals with a strong track record of success in casual online and social gaming over the past 15 years. You can find more information about Playdemic and its games at www.playdemic.com, or follow them at www.facebook.com/playdemic and @playdemicstudio
About GARFIELD
GARFIELD was born on the comics pages on June 19, 1978. The mastermind of cartoonist Jim Davis, GARFIELD is a humorous strip centered on the lives of a quick-witted orange cat who loves lasagna, coffee, and his remote control; Jon Arbuckle, his owner; and Odie, a sweet but dumb dog. GARFIELD was introduced to the world in just 41 newspapers and is now the most widely syndicated comic strip ever, appearing in 2,100 newspapers. The strip, distributed by Universal Press, is read by over 220 million people each day and is translated into 42 languages.
The success of the comic strip spawned a licensing program and several popular animated TV shows: Garfield and Friends, appeared on CBS-TV from 1988 to 1995, and in 2009, The Garfield Show debuted on Cartoon Network USA and now airs in 135 countries. Additionally, two feature films starring Garfield, with Bill Murray doing voice-over, made their way into theaters in 2004 and 2006, and Davis recently penned three original direct-to-video features.
Garfield entertains his fans on a popular web site, garfield.com, and engages kids in interesting and pedagogically sound activities to promote literacy at professorgarfield.org. English, Science and Life Skills are among the topics Garfield and his pals address atlearninglab.org, a public service of the Virginia Department of Education.
Garfield has long been considered a "classic" or "evergreen" property because he has not only endured, but continues to be fresh and funny after 35 years in the limelight. Follow Garfield, along with 11 million other fans, on Facebook (facebook.com/Garfield) and Twitter (twitter.com/Garfield).
About Iconicfuture
Iconicfuture is the leading marketplace for licensing rights as premium virtual items in online and mobile games. The Hamburg-based company simplifies the process of integrating popular rights into games. Iconicfuture offers a unique service for game developers and rights owners from the fields of sport, entertainment, fashion, celebrity and much more. Premium virtual items enable gamers to engage with rights they are passionate about, and offer a new way for games to increase revenue and reduce marketing costs. Rights owners are able to extend the reach of their brands into an exciting new space, reaching broad audiences of passionate gamers across multiple platforms. For more information, please visit http://www.iconicfuture.com/.
For media enquiries, please contact:
Simon Franks
Playdemic
simon.franks@playdemic.com
+44 (0)1625 530 934