May 24, 2018 - Genmed announces today that it has been listed as one of London Stock Exchange Group's 1000 Companies to Inspire Britain. Now in its fifth edition, the report is a celebration of the UK's fastest-growing and most dynamic small and medium sized businesses (SMEs) across the UK.
To be included in the list, companies needed to show consistent revenue growth over a minimum of three years, significantly outperforming their industry peers. In its latest audited figures for 2016/2017, Genmed's revenues increased 54% to £32.4 million with EBITDA[1] rising 3.46 times to £415,000.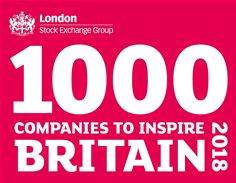 1000 Companies to Inspire Britain 2018
Genmed provides vendor neutral managed services in the NHS which helps Trusts to reduce costs, rationalise pricing, improve efficiency, enhance clinical productivity, speed up purchasing, minimise administration and invoice processing. Its managed services are HMRC compliant for VAT recovery meaning that Trusts can reclaim the 20% VAT to re-invest in front line services and the treatment of patients.
Genmed has developed from its early focus primarily delivering pathology contracts to now manage contracts which encompass surgery, pathology, flexible endoscopy, IT, radiology, electronic medical records management and renal. It is also able to provide building contracts including finance up to PFI level. Genmed's approach since start up 10 years ago is closely aligned with all the key directives highlighted by Lord Carter of Coles[2] in his report to improve the efficiency of hospitals.
Genmed is not a managed equipment provider or a finance house. Its remit is much wider. It is an integral partner working with Trusts to ascertain what clinical facilities or technology they need, their workload issues, finding and selecting suppliers, driving product costs down, putting together the finance, managing the contracts, paying subcontractors and taking all the risk upfront itself. Importantly, Genmed is not tied to any third-party suppliers and selects consumables and equipment based on close collaboration and input from NHS managers and clinicians.
Nikhil Rathi, CEO, London Stock Exchange Plc, says, "We warmly congratulate all of the companies identified in this year's '1000 Companies to Inspire Britain' report. Five years on, the report continues to demonstrate the strength and diversity of British businesses across the country. These dynamic companies are the backbone of our economy, playing an important role in the UK's ability to innovate, export and grow. This report is a significant part of London Stock Exchange Group's broader campaign to support UK high growth companies. We are committed to championing British businesses and Britain's dynamic entrepreneurial spirit."
Genmed now works for 40 NHS Trusts and Health Boards throughout the United Kingdom including London North West Healthcare, Norfolk & Norwich University Hospitals, South West London Orthopaedic Elective Care and Nottingham University Hospitals NHS Trust.
Robin Modak, Genmed's chief executive officer, says, "The lack of capital resources in the NHS together along with the need for Trusts to make CIP savings each year has led hospitals to seek providers of managed services who can generate both economic and efficiency gains. We have the ability to deliver both, very much in the context of patient needs and pathways. This ensures that the managed services we provide deliver maximum value in the health service."
[1] Earnings before interest, tax, depreciation and amortisation
[2] https://www.gov.uk/government/uploads/system/uploads/attachment_data/file/499229/Operational_productivity_A.pdf
- Ends -
About the 1000 Companies to Inspire Britain 2018 report
More detail on the methodology used to select companies for the report can be found online at www.1000companies.com.
A full searchable database of all of the companies along with a downloadable PDF of the publication is available at www.1000companies.com
About Genmed
Founded in 2007 and based in London and Wales, Genmed is a vendor neutral managed service provider specialising in the health sector. It works with 40 NHS Trusts and Health Boards around the country where, to date, it has 220 contracts supporting a variety of clinical disciplines such as pathology, surgery, endoscopy, imaging along with electronic medical records, IT and facilities. Genmed's asset finance requirements are funded by large blue chip partners including Societe Generale, GE Capital and Barclays Corporate. Currently Genmed's contract portfolio totals around £430 million.
Genmed is headquartered in Weybridge, Surrey. For further information, please visit www.genmed.eu
For further information, please contact
Tom Herbst
Tom Herbst PR
T:07768 145571
Email: tom@tomherbstpr.co.uk